"Companies are bought for their revenue, customer base, technology, or people. A few great companies offer all of these, but any valuable business offers one."
Margaret Heffernan
The digital revolution disrupted companies around the world – it's not surprising then why so many businesses are analyzing their technology structure. The real key is to determine the solutions that will truly accomplish your business needs.
For 15 + years we have had the privilege of helping customers implement a variety of best-of-breed NetSuite applications, developing best practices to ensure successful outcomes. The trend we are seeing is that of customers taking advantage of their ERP upgrade cycles to analyze their technology infrastructure which includes key business processes.  
Time to Read:

8 min

Who should read:

Controller, Accounting Manager, NetSuite Administrator

Drink Pairing:

Manhattan

NetSuite issues? Contact us in the form below. W

e work with the top finance teams

Standing ovation to

AndersonFrank

 
What You'll Learn:
Top 8 third-party SuiteApps

Benefits of using NetSuite apps

Average set-up/integration project length

Boomi: an easy to use an integration tool 
NetSuite Third-Party Apps to Consider
Designing a new vision of what an organization's technology infrastructure should look like is challenging. There are many technological solutions to choose from in every business vertical. The big questions are, how do you effectively evaluate the options in practical terms? This is perhaps how we can help, introducing you to our top 8 NetSuite cloud applications to reinforce your ERP. 
1. FloQast: Close Management Software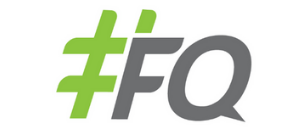 FloQast is a cloud-based software made for accountants designed by accountants. Built to facilitate a more efficient and accurate month-end close process. Among its many tools, FloQast provides a close task structure, allowing users to understand who is assigned to what close related tasks and tracks their status. 
FQ allows for the integration of data from ERP systems and spreadsheets so that accounting and finance teams have all the information they need at their fingertips. The tool allows you to automate some key closing tasks like trial balance tie-outs, matching transactions, checklist roll-forwards and more. Users can quickly identify reconciliations that go out of balance, clear transactions in minutes that used to take hours or even days and create a repeatable process that provides complete visibility into the status of the close.  
Integrates with NetSuite Module: General Accounting 
Strategic Importance: 
Improves the speed of your close to an average of 3 days/month.

Simplifies and tracks the progress of close tasks for multi-member finance teams, reducing oversight and micro-management required by supervisors.

Eliminates issues created by manual procedures.

Creates process transparency that meets auditor reporting standards, particularly required by publicly-traded organizations.
FloQast is a wonderful addition to any cloud ERP, due to its direct communication with the company's system and all your spreadsheets. In the video below, you will be guided through FloQast close management functionality. 
Average Implementation Time: FloQast is proud that their customers go live in less than 1 month. On average, the implementation payback period is within 8 months. Our consultants consider FloQast the most intuitive accounting software in the market. The biggest advantage FloQast offers is that they know from experience the different challenges accountants face every day. Have a stress-free close with this complete month-end checklist to plan and manage your team's tasks. 😉
The image below: Flux Analysis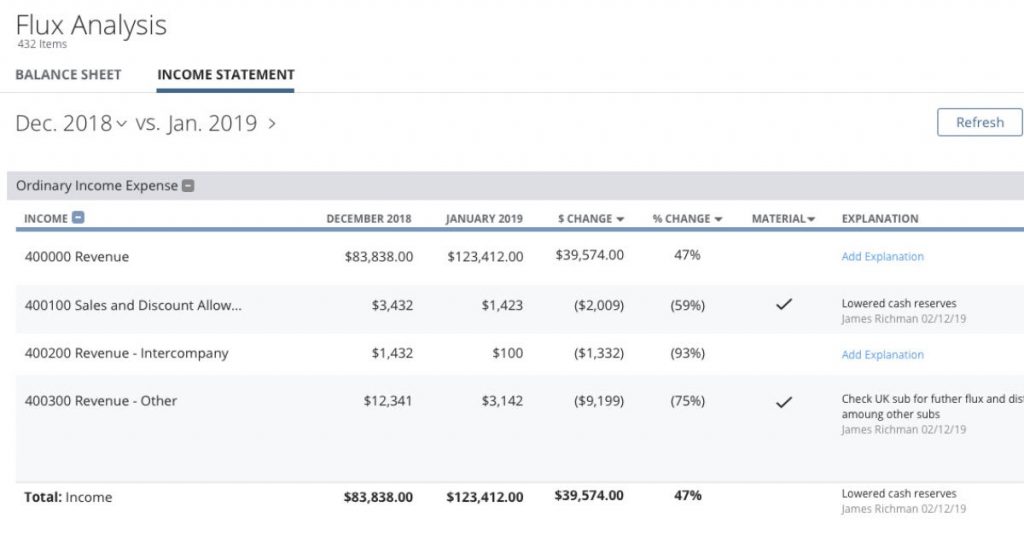 2. Avalara: Tax Compliance Solutions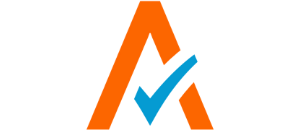 Avalara is a cloud-based tax compliance suite of solutions. They allow users to calculate taxes, file and remit return. The solutions also allow users to maintain appropriate documentation requirements to comply with audits. The solutions handle sales, communications and VAT taxes. They can also handle tax calculations across the US, Canada and internationally and tax rates for covered jurisdictions are updated in real-time.  
Integrates with NetSuite Module: General Accounting 
Strategic Importance: 
Improves tax calculation accuracy.

Simplifies tax calculation regardless of the geographic region.
In the following demonstration, you can see how simple it is for NetSuite customers to automate their sales tax compliance process using Avalara Avatax.
Average Implementation Time: with the support of our experienced consultants, it may take approximately 2 to 3 weeks to implement Avalara successfully. 
Avalara covers more than 16,000 tax jurisdictions in the US. We consider it a valuable complementary application that optimizes NetSuite accounting management. Find out more about Avalara Avatax here.
Imagine below: Tax calculator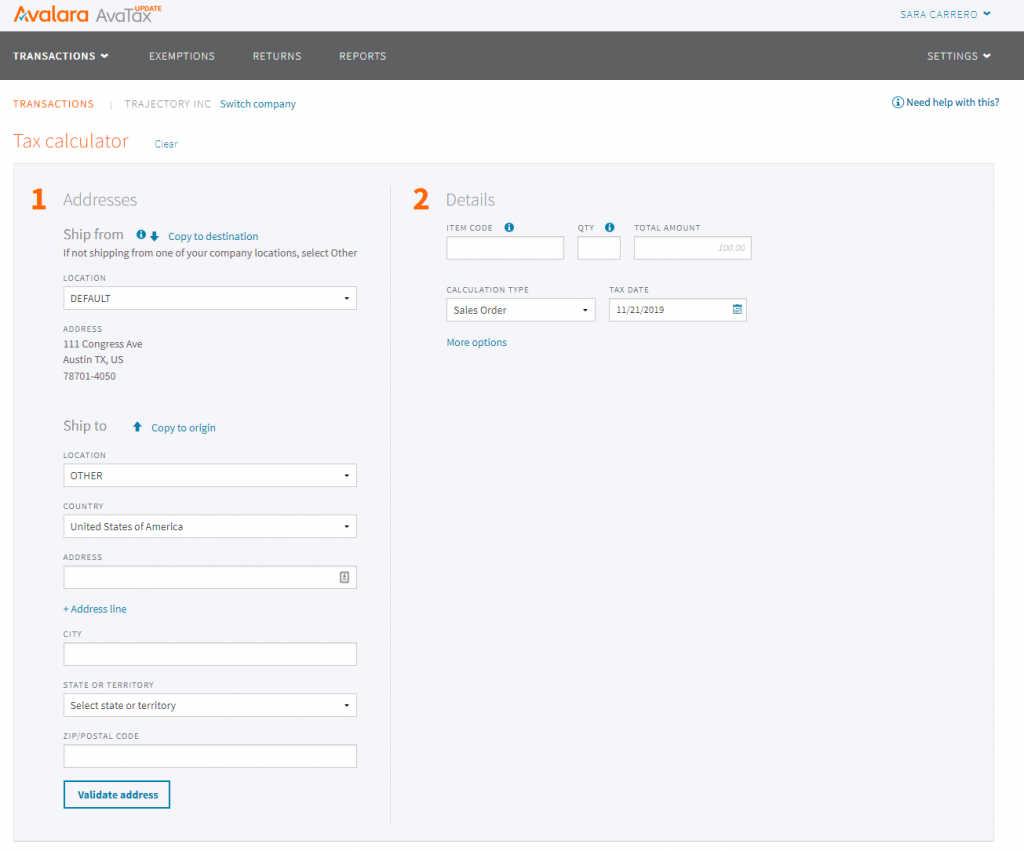 3.

AvidXchange: Automated AP Processing Solution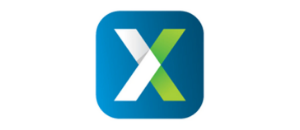 AvidXchange serves mid-market companies in the Real Estate, Financial Services, Non-profit and Construction industries. It provides automated AP solutions that streamline the entire AP process. Features include managing invoices, automating approvals and scheduling payments.
Integrates with NetSuite Module: General Accounting
Strategic Importance: 
Facilitates paperless, efficient processing of invoices and vendor payments.

Allows for the acceleration of approvals via automated approval routing functionality.

Provides expense transparency for Finance teams.
Our partners from AvidXchange did a wonderful job showing with humour how AvidXchange improves your team's lives by automating manual tedious work and backing up the AP process.
Average Implementation Time: The automated implementation process guarantees users can go live within 45 days. Implementation support tools like the project plan, templates and training materials are provided during the transition period. If you need extra help, our certified consultants can make your customization requirements a reality.
The image below: AvidXchange AP Automation built for NetSuite.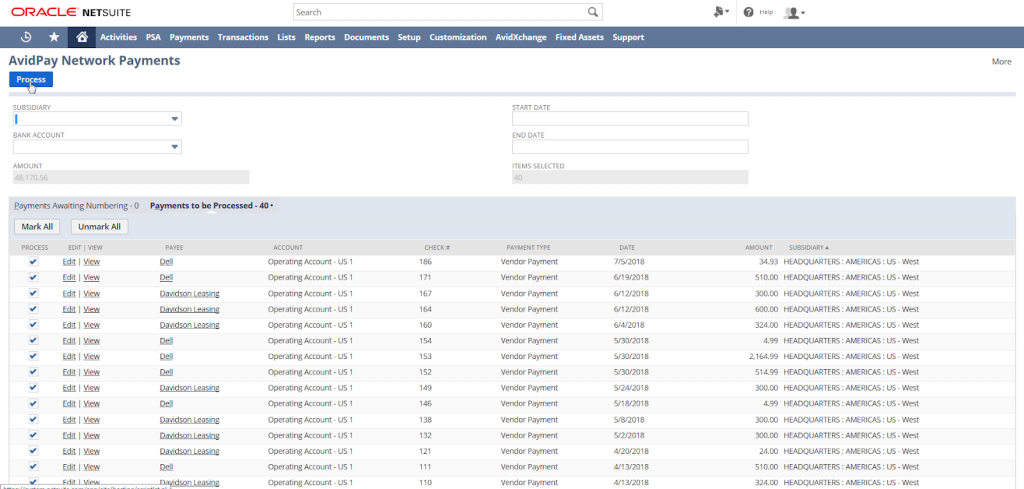 4. Expensify: Expense Management Solution
Expensify enables easy on-the-go expense reporting, tracking and reimbursement. The solution offers the ability to take photos of receipts and automatically transcribes them for expense reporting purposes. The platform also simplifies corporate card reconciliation and multi-level approval workflows. The best part is that Expensify directly syncs with your Netsuite account as well as various other software.
Integrates with NetSuite Module: Employment Management
Strategic Importance: 
Facilitates paperless, efficient submission and processing of expenses.

Allows for the acceleration of approvals via automated approval routing functionality.

Provides expense transparency for Finance teams.
Watch the demonstration below to learn how Expensify's two-step implementation to NetSuite software simplifies the expense management process from end-to-end. 
Average Implementation Time: The implementation process is simple and quick. Depending on the project's complexity, it can take from a couple of days up to 2 weeks to implement. Our consultants are big fans of Expensify, they recommend considering the impact that the system will have on the ERP since its use affects the entire expense management business process. 
The image below: Expense report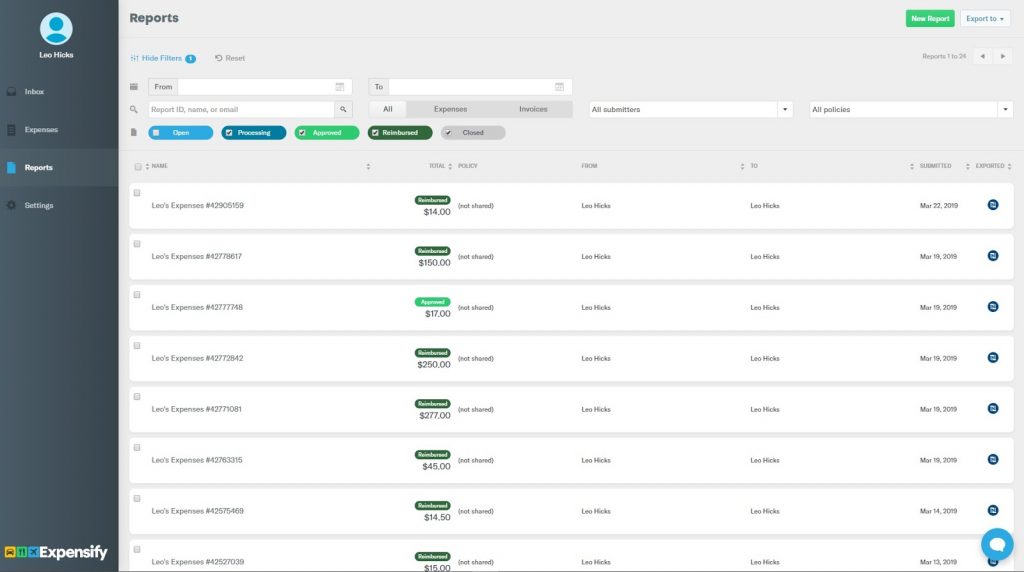 5. Concur: Expense Management Solution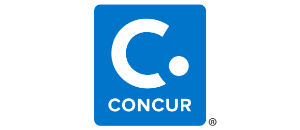 Concur is a cloud-based solution for easy management of expenses, travel, and vendor invoices submission, compliance, and risk. Users can easily track and submit expense reports in real-time and be promptly reimbursed. Finance departments can have visibility on expenses before and as they are incurred. 
Integrates with NetSuite Module: Employment Management
Strategic Importance: 
Enables paperless, efficient submission and processing of expenses.

Allows for the acceleration of approvals via automated approval routing functionality.

Provides expense transparency for Finance teams.
Watch the video below to understand how Concur connects all your expenses (travel and invoices) on the same platform. Due to their user-friendly app, makes it easy to track expenses whenever and wherever.

Average Implementation Time: it takes approximately 6 to 8 weeks to implement Concur successfully depending on the requirements. Of course, the level of expertise of your implementation partner will play a vital role in the implementation.
The image below: Expense manager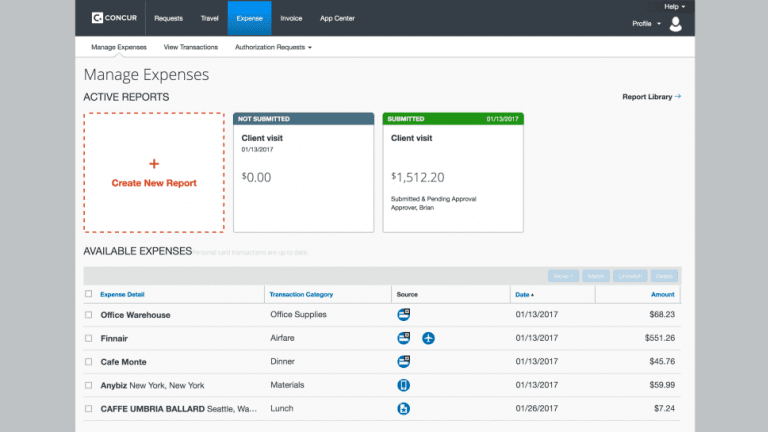 6. NetSuite OpenAir: Professional Services Automation Solution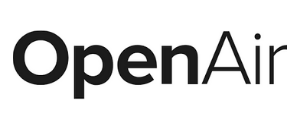 OpenAir is a full-service cloud-based NetSuite professional services automation solution that supports all your project needs. As a centralized solution, you can organize project accounting, track time and project progress, record expenses, and manage resources in a single platform.
Integrates with NetSuite Module: Project Lifecycle Management
Strategic Importance: 
Allows for streamlined centralized tracking of resource management, project management, time tracking, expense tracking and invoicing hence facilitating scalability of professional services organizations' operations.

Maximizes resource utilization and project margins.

Provides project transparency that enables on-time project delivery.

Expedites billing cycles by having all billing-related data accurately organized and readily available. 

Handles multi-currency, multi-subsidiary, multi-taxation and multi-language requirements easily. Improves invoicing accuracy and streamlines revenue recognition processes. 

Supports the automation of approval processes and accuracy of data decreases project accounting-related expenses and management overhead.
Watch the video below to learn about OpenAir's project-specific capabilities.  
Average Implementation Time: an OpenAir implementation typically takes  3 to 4 months, based on requirements complexity. NetSuite and Salesforce users don't need development team assistance to install OpenAir with their ERP/CRM.  
The image below: OpenAir dashboard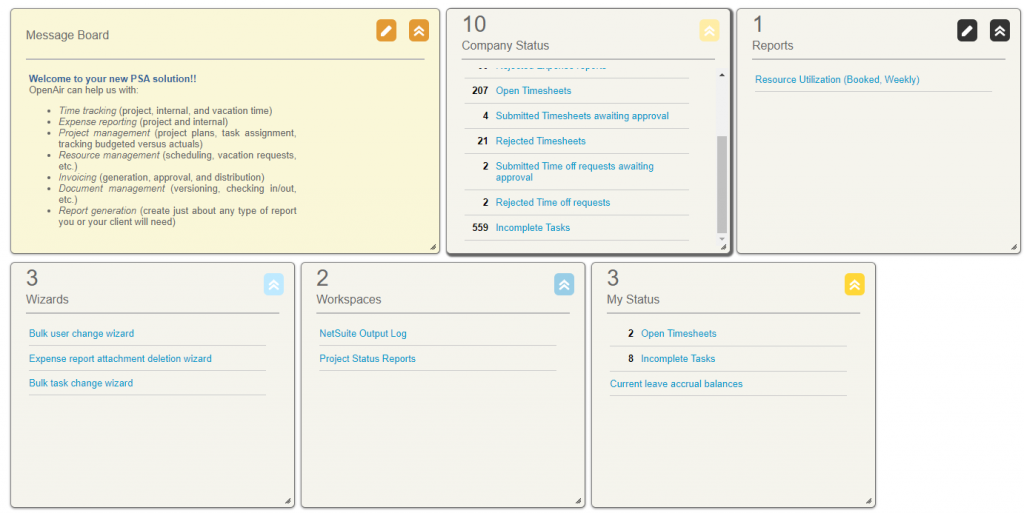 7.

Adaptive Insights: Corporate Performance Management Solution
Adaptive Insights is Finance, Financial Planning, and Analytics team's favourite tool. It allows simplifying budgeting, planning and modelling activities. The application syncs with real-time NetSuite data, allowing users to drill down and better understand the source data in their budgets and models. Adaptive Insights is based on a robust engine. It offers high-performing and flexible data accessibility in a secure environment. Organizations use it to effectively leverage their data for meaningful insights.
Integrates with NetSuite Module: General Accounting
Strategic Importance: 
Improves the preparation and maintenance of budgets and forecast models. Enables accessing historical data in real-time. It allows for collaboration across organizations.

For Finance teams: the solution drives continuous improvement through accurate financial reporting, budgeting, and analysis.

For Sales, allows sales teams to optimize resources by capacity and territory to meet sales quotas. Facilitates the link between sales and financial plans.

Workforce Planning, it provides the transparency needed for the development of optimized head-count and skills-based plans.
Review the video to learn the potential benefits of using Adaptive Insights.

Average Implementation Time: The typical forecasting and budgeting implementation lasts about 2 to 3 months. However, simple implementations like the QuickStart method can go live within 3 weeks.  
The image below: Financial dashboard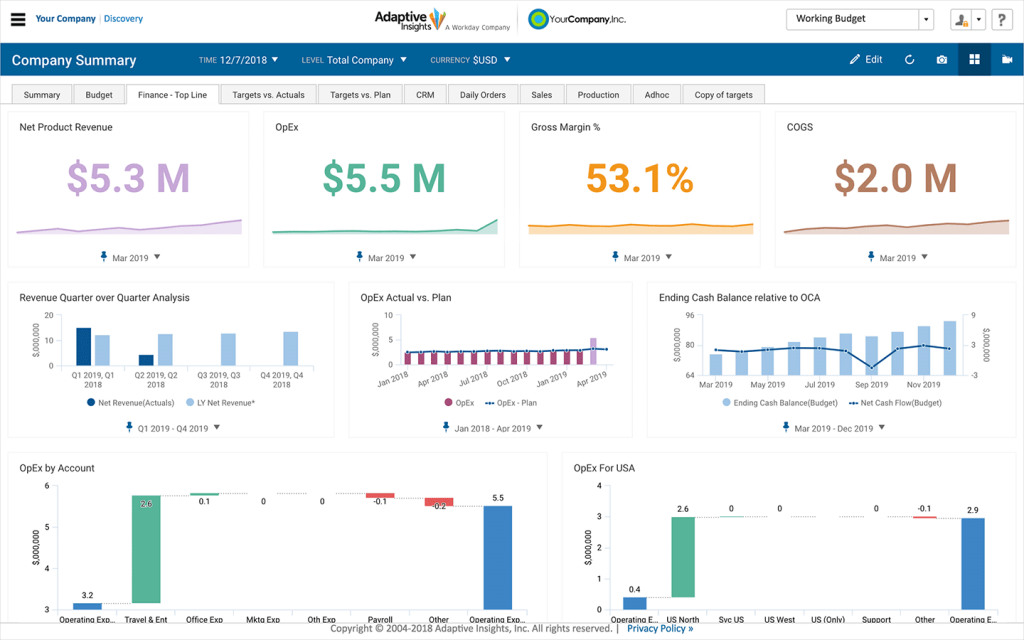 8. Salesforce: CRM Solution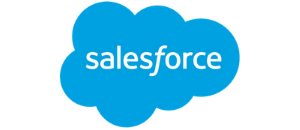 Salesforce provides cloud-based solutions to manage services, customers and sales performance. Salesforce offers a menu of products that can be used to centralize and coordinate sales orders, marketing, and customer service efforts. Integrating Salesforce with NetSuite allows for the seamless flow of customer, contact and opportunity data, keeping NetSuite solution updated with real-time sales pipeline information. 
Integrates with NetSuite Module: Customer Relationship Management 
Strategic Importance: 
For sales teams, facilitates smooth processes and provides visibility that enables them to efficiently close deals and saves money. Also provides access to AI-powered customer insights to inform sales process improvements to help sales representatives sell smarter.
For service teams, enables maintenance of a 360-degree customer view, so the team can better address their needs. Provides platforms to support self-service communities, direct messaging options, and call center to field deployment.
For marketing teams, it facilitates the execution of personalized cross-channel marketing campaigns that deliver customer-centric experiences that drive customer engagement.
Average Implementation Time: Depending on the project specifications, a Salesforce implementation can take up to 30 days. A proper solution implementation can generate up to a  37% increase in revenue.
Highlight >> Boomi – Trajectory's Integration Tool of Choice
The reason why Trajectory's implementation services work so well is that we mix experience with expertise. We use Boomi to set up most of our customer requirements due to its flexible integration platform.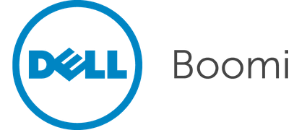 Boomi, selected as the SuiteCloud Partner of the year for 2018, is ideal for connecting NetSuite cloud elements with various third-party applications. Its capabilities make it simple to integrate different business technology solutions while maintaining data integrity.
Average Implementation Time: For basic projects, the complete Boomi configuration can take around 4 to 6 weeks – documentation and QA included. Custom integrations normally take longer than 2 months. 
Image below: EDI process Boomi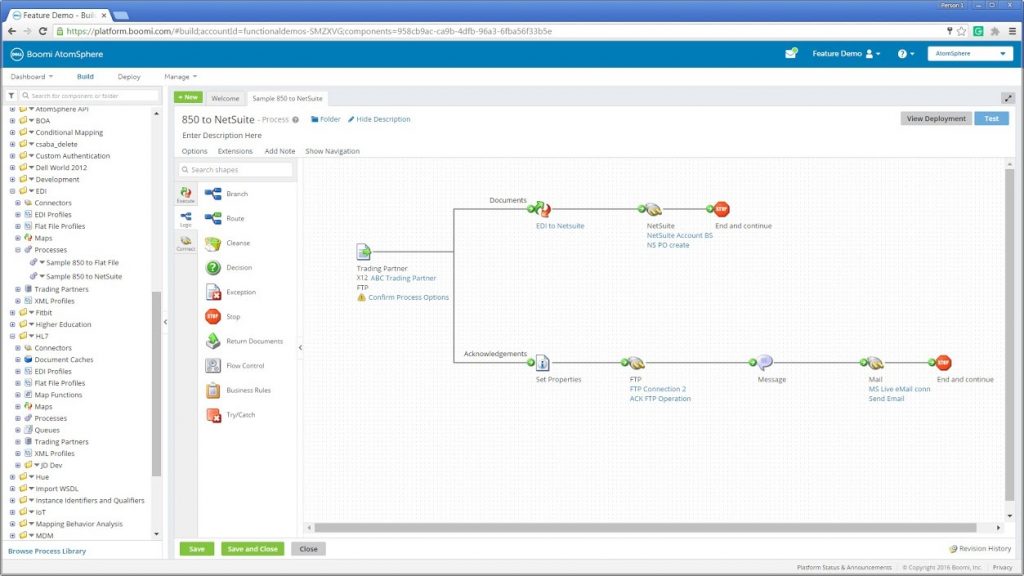 The effective implementation of these applications can be a game-changer for organizations looking to upgrade their core operational systems. With NetSuite as the backbone of your ERP infrastructure, supplemented by partner applications, operational efficiency can be taken to new heights. and you will be well-positioned to evolve with your organization's changing needs.
If you are ready to evolve with your organization's changing needs, let's get on a call for a no-obligation consultation. Our consultants will bring your future state ERP technology infrastructure vision to fruition.
Our reader's favourite topics:
9 steps to a NetSuite Implementation success:

our pals from AndersonFrank wanted to help consultants bringing a brief about the crucial methodology of implementations. 

Data Migration Best Practices:

don't be afraid of mismatches by following our consultants' advice for migrating data from one system to another.

NetSuite Implementation Guide:

we took the time to describe the entire implementation process with all small details to help your team understand how to deliver a successful ERP implementation, supported by examples and an actionable checklist.