Time to read:

6 min

Who should read:

CFO, Controller & NetSuite Administrator 

Drink Pairing:

Gin Tonic

For quick help: ERP should be an enabler, contact us in the form below or on our Contact Us page.
Order Management helps keep track of your business's selling process and impacts practically every supply chain process and operation. The cycle covers the entire transaction journey, from the request of the sales order until the product is delivered. It also has a direct impact on how a company or product is perceived by a client. 
This post is part of the NetSuite Administrator Series
Quote to Cash – Order Management << You are here
In an omnichannel environment, consumers expect a seamless experience. A client may order online, but may also have questions and complete the order through a call center or another sales channel. 
They expect to see updates such as emails along the way as the order is fulfilled. They may want to return it through a physical channel such as a store if there is a problem reaching the customer service digitally. Each point in the order journey presents an opportunity to provide a great customer experience and boost retention and revenue. 
Nowadays, customer experience is the basis of strategic business process design and will soon become the core expression of a brand. With NetSuite, you can build a solid sell process with management software that will easily contribute to a super experience for your clients. 
What's NetSuite Order Management?
From quote to cash, the NetSuite Order to Cash process flow communicates with the other system modules and is the core of the daily business operation. NetSuite features for Order Management can be customized to fit the customer order processing system needs of various industry verticals.
Pro tip: To boost your Order Management process efficiency, you'll need to have a solid structure in place for inventory, accounting, employment management, and customer management among others, depending on how your business works. 
You can also modify forms, fields, and processes during the flow of Order Management. NetSuite has 4 standard forms to cover common business scenarios:
Standard Sales Order

– A standard sales order lets you create an invoice or a cash sale, based on whether you enter billing terms or a payment method.

Standard Sales Order – Cash Sale

– When you bill this type of sales order, a cash sale transaction is created in the system. 

Standard Sales Order – Invoice

– When you bill this type of sales order, an invoice is created. 

Standard Sales Order – Progress Billing

– Progress sales orders can be billed at intervals according to the fulfillment progress of the goods or services. 
Pro tip: In NetSuite, there are several types of predefined sales order forms. You or an administrator can also create customized sales order forms. 
How does Order Management work?
There are three steps in a typical order management process (yes, you can customize them to your needs):
1) Placement: When the client places the order, we get a sale. 
The purpose of using order management software is to have immediate access to essential transaction records in order to store the client's orders. Some of the most common ones that NetSuite provides are: 
Quote: A sales quote allows a prospective buyer to see what charges would be involved in their purchase.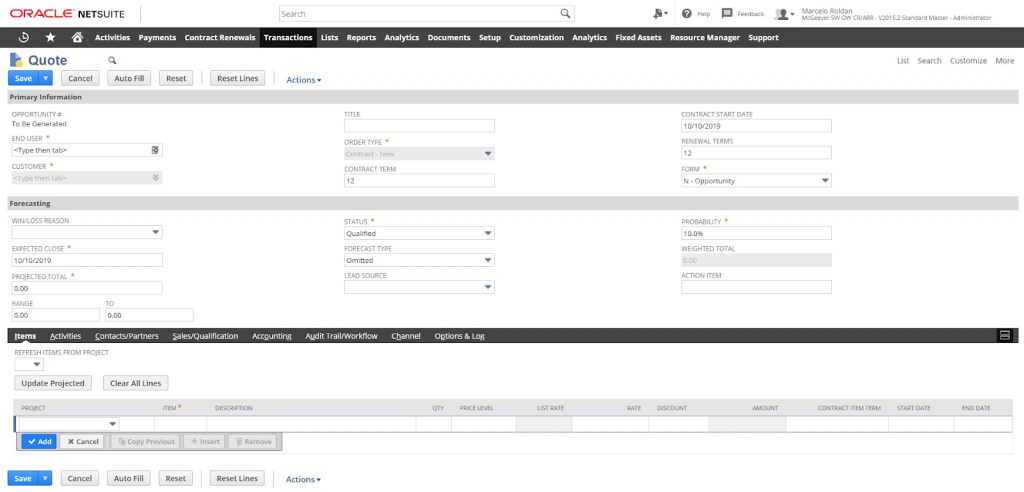 Estimate: When it's not possible to get an exact figure for a transaction, an estimate approximates the cost for a service.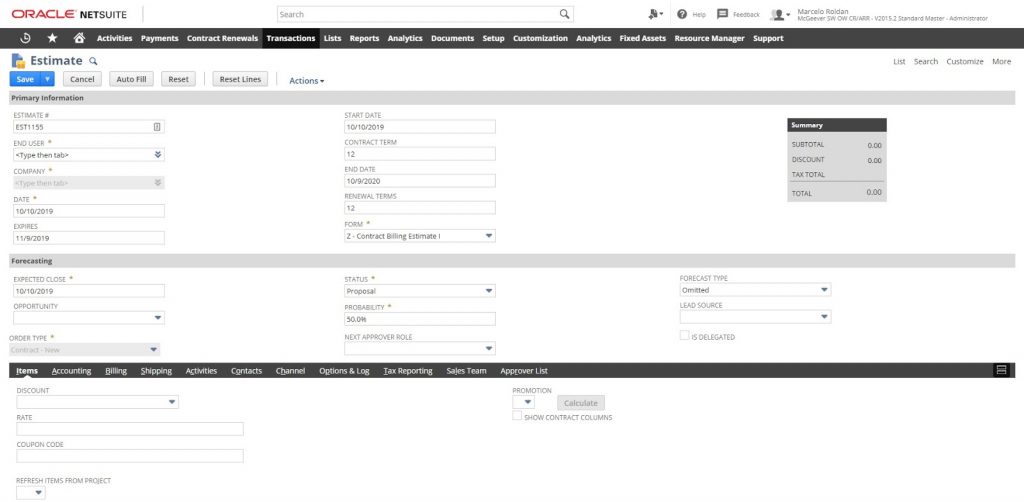 Sales Order (SO): The beginning of the order to cash cycle and corresponds to the agreement between the buyer and the seller. 
In NetSuite, you can establish different levels of approval workflows.  You may also design custom forms to make ordering items easier for customers.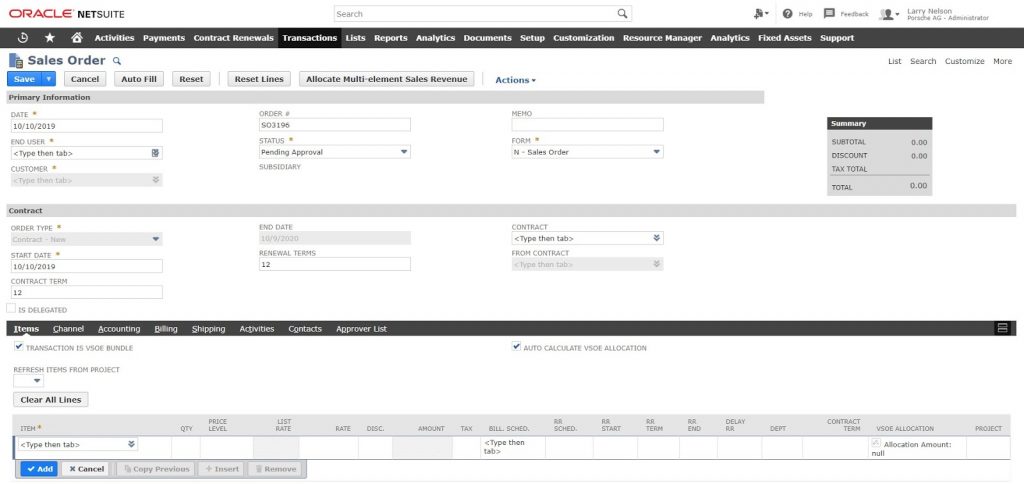 2) Fulfillment: If your business works with physical products, pick, pack and shipment of the items is the following step in the process. The invoicing and payment collection processes begin after the fulfillment is complete. 

The fulfillment process will impact your general ledger – your accounts receivable will increase and your inventory level will decrease. Before the fulfillment, all the changes are non-posting movements including Sales Orders.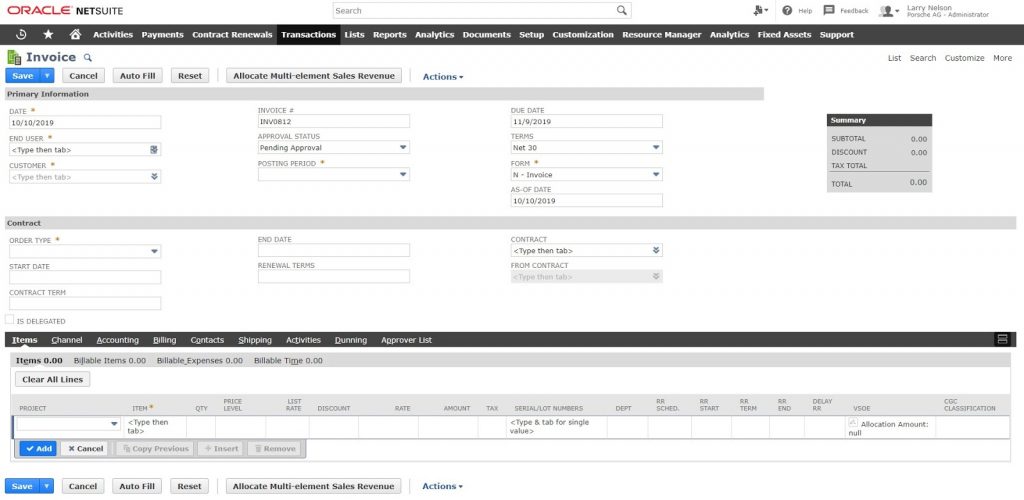 3) Inventory Management: Inventory level fluctuations depend on product/service demand.  
NetSuite Inventory Management is a key piece in the Order Management game. The way that these two fundamental processes work together in NetSuite makes the data tracking process simple when you're selling.  
Order Management Reports: 
One of the top reasons CFOs choose NetSuite is the rich reporting features of the system. Order Management has robust reports that can be customized to match your business structure and needs. 
You can use classification features such as locations, departments, classes, subsidiaries or any custom classification. The reporting piece provides deep insights that will help with your forecasting & planning.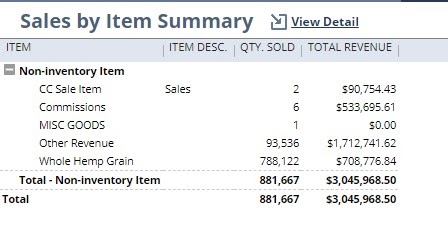 Some of the standard reports for Order Management that you can find in Netsuite are:
Sales Order Reports

Return Authorization Reports

Open Bills Report

Open Invoices Report

Shipping Report

Transaction Detail Report

Profit and Loss Report
Image below: Profit and Loss report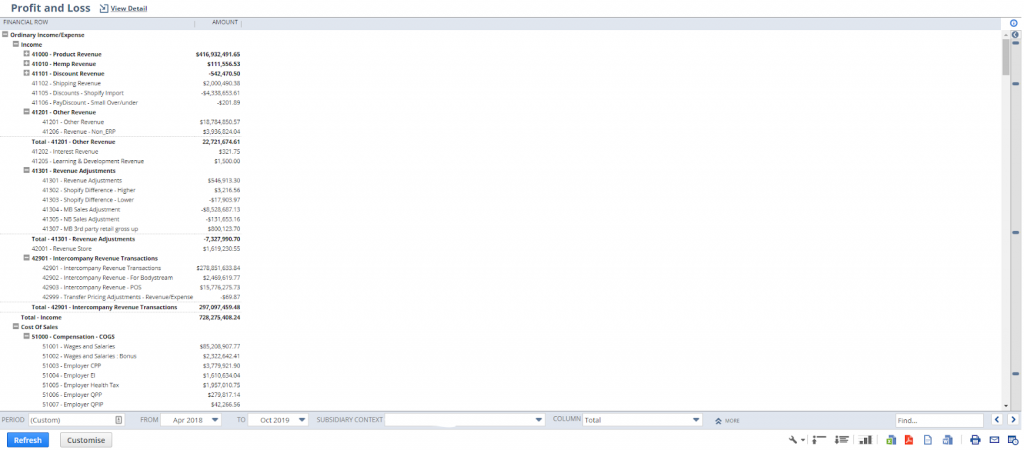 Enjoyed this read? Here's what to learn next:
Thanks for reading – we trust that this shed some light on the module, its features & some insider tips on gotchas that you really need to know. Continue your learning with the below posts & subscribe to the ERP Academy to enjoy the popular series on a #NetSuiteAdmin first year of work.
6 Secrets to climbing the NetSuite career ladder: 2019 Anderson Frank's survey showed that 43% of consultants are unsatisfied with their career progression. Learn by the hand the keys to success from the leading ERP recruitment firm.
The ultimate guide to Oracle NetSuite modules: The beauty of NetSuite is how easy it is to build the exact system that your company needs. Discover all the possibilities that modules offer to create a powerful ERP.
What is NetSuite and why financial teams need it: Reduce manual work, avoid mistakes, bring a 360 view over the business performance and still, that's only half of the benefits that NS has to offer. We'll guide you over the platform to help you discover how NS will revolutionize your business financial management.