"One great thing about NetSuite's PSA is that you will actually see how your budget is being utilized. Most importantly, when and why it's being spent."
Alex Olano
President & Operating Partner
Trajectory Group
The Professional Services module (PSA) is the consolidated NetSuite solution for project & resource managers. Management can control project financials, billing, invoicing, and every aspect of your growing services business.
What you'll learn: 
Overview & industry use

Benefits

Features

Why you should use PSA
 Overview of NetSuite Professional Services Automation (PSA)
Project Management is an important piece of every organization, it requires experience, planning, time, money, people, etc. It turns out to be difficult and complex, especially when we combine all these factors in our projects. So there must be something to make this process easier, to make it simpler.
This is where NetSuite PSA comes in! It provides users with the ability to manage their teams when resources, tasks, and estimates need to be allocated to the right projects. 
The PSA module eliminates the need for multiple systems to manage projects, improving the project team's performance by automating manual tasks. Due to its flexible integration options, it also allows you to use NetSuite along with other third-party systems.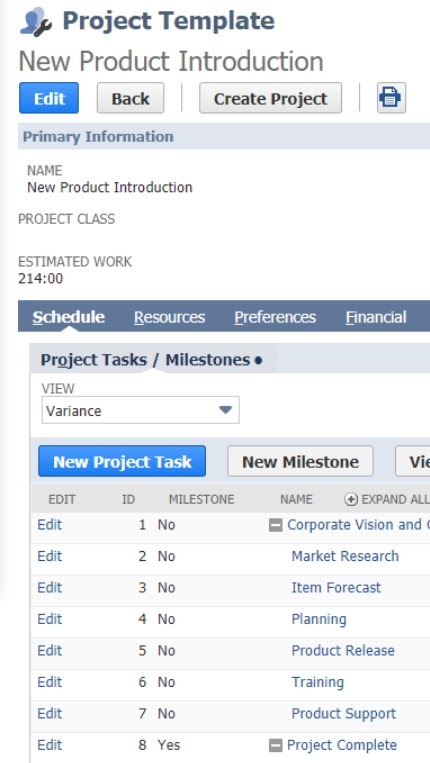 Image: Project Template record showing estimated work from created tasks. This template can be used to start any project and changed in the future if needed. 
PSA is a project management solution that manages every aspect of your project in one place. Thanks to its user-friendly interface, you can access the project information to control:
Labour and Revenue Estimates 

Project Billing Planning

Invoices and charge rules execution

Time and expenses management entered against all projects

Financial and budget information to then compare Actual vs Forecasted

Resource management and allocation depending on the task nature, and deadlines
If someone tells me that it also makes my coffee, I would probably believe that. Okay – bad joke – it is the place to control & track everything within your projects or, as NetSuite calls them, jobs.
Industries that benefit from PSA are:
Software & Technology 

Professional Services, ex: management consulting,  law firms, education, healthcare 

Advertising & Digital Marketing

Construction & Manufacturing
Benefits & Purpose
Increase visibility into project work by having real-time data.

Group through customized reports information like status, resources, amounts, deadlines, etc. that you would like on your home page.

Get accurate profitability numbers.

With out-of-the-box NetSuite reports, track project profitability and compare values between dates, subsidiaries, locations, and departments.

Improve your team's efficiency to make faster decisions.

Automate common manual tasks and improve project management flow. Your team will have more time to focus on accomplishing their goals versus being stuck in admin work.
Image below: Top – NetSuite task portlet showing Project Tasks filtered by date. Bottom – Dynamic Subsidiary Navigator Portlet showing the account's hierarchy.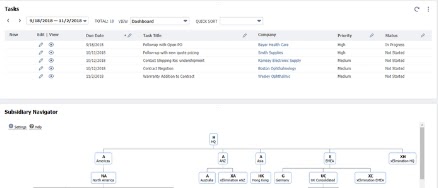 Module Features
Track Job Records Separately from Others

: You can associate your transactions with your projects to complete the bid-to-bill lifecycle.

Track Charges and Progress on the Financial Subtab 

Keep your team's flow and deadlines under control. Review every transaction that has been entered against the project. 

See if it was approved, rejected or if it is pending approval. 

Create Projects from Sales Orders or from Scratch.

Have your Order Management process related to your project by creating them from sales orders.  

Complete Visibility of Revenue, Budget, and Financials 

Review your project progress from your home/dashboard page or directly inside the project. 

Customize your dashboard view to see what you're working on or have a view of team progress too.

All projects view:

compare all information with other projects to see how you are doing at a portfolio level. Determine the best practices to achieve goals and keep track of progress.

Project Centers:

Your customers or vendors have the option to navigate NetSuite through specific layouts. They can check in on status or simply process a payment or an invoice. 

Project Templates Utilization

Create or start projects from templates to save time & customize them if you need to change details. 

Build as many templates as you need, from small to large-sized projects. 

Templates define the project preferences, generic resources, and tasks. 

Full Customization Features 

Personalize your project as much as you need. The system allows you to create custom fields, custom records, saved searches. 

For advanced customizations, you can always

reach out to our tech team

. 

Multiple Currencies and Languages Allowed 

Multiple languages give the opportunity to boost your company's growth, especially if you have clients & employees in different countries. 

Use the system to print your transactions for different clients across the globe or just manage your projects in different languages. 

Flexible Resource Allocation.

The resource planning functionality allows your project manager to assign the right resources to the proper tasks within a project. 

Billing Features. Handle complex project billing scenarios:

Fixed Bid Interval

:

Bill customers at predefined intervals for a portion of the fixed amount based on project percent complete.

Fixed Bid Milestone:

B

ill customers as milestones are completed for the percentage of the total project amount specified for the milestone.

Time and Materials. 

B

ill customers for time and expenses entered against the project.

Charge-Based.

Use all the other billing options at the same time. 

Time Tracking. 

Approve or decline time tracked entered by your project resources.

Have complete control over who your project time approver will be.

Use the project preferences to control the project's behaviour in the system.
The image below: NetSuite portlet showing a Project List with key information. All columns can be renamed, moved, added or removed.
Why NetSuite Project Management?
✅  You are able to track your project financials, progress & resource in one place in real-time
✅  It's a native NetSuite add on, you can switch it on at any time, for an additional price
✅  You are able to use it at any time from any device (especially time & expense tracking)
✅  Improves on-time project delivery & accurate resource allocation to drive project success
Using NetSuite's PSA module allows for collaborative work, easy information access, and financial impact visibility. You will be empowered to make solid business decisions by knowing where your money is going out. Most importantly, how and when it is coming in.
Image below: NetSuite Trend Portlet showing Sales KPI vs Sales Orders KPI per month.

People who read this post also enjoyed: 
We want you to be able to scale, control and take on a wide client portfolio. Check out the below topics to help with your research.