"Almost all quality improvement comes via simplification of design, manufacturing, layout, processes, and procedures."
Tom Peters
The NetSuite platform has a robust manufacturing module, it allows companies to plan, implement and control a well-established manufacturing workflow. Your team can control the steps in the production process while tracking the associated costs (ex: raw materials, machinery, and labour). When evaluating Manufacturing ERP software, NetSuite can easily take on the requirements of most shop floors.
Apart from a full-fledged ERP, its Manufacturing module designed to streamline your operations. Keeping everything in sync with your company's general ledger, inventory management & Logistics and Supply Chain Management processes. 
What You'll Learn
About NetSuite Manufacturing

Module benefits & Uses

Why you should use it
About the Module
When thinking of manufacturing companies, what usually comes to mind are complex processes in operations management, cost, components and materials. It's hard to imagine a simple process to keep track of all the moving parts of production and inventory.
To address common pain points, it has three main editions varying mostly on the number of features you need to satisfy a business requirement :
Light Inventory:

Designed for Fast-Growing midsize businesses that can benefit from a simple manufacturing management system.

Standard Edition:

Addresses the requirements of midsize companies with complex processes, such as multiple BOM's per item, or manufacturing forecasting.

Advanced Edition:

A full-fledged ERP manufacturing solution that covers the most advanced business requirements. It allows the company to define strict controls and setup inventory and manufacturing processes in multiple locations/regions. 
Some core features that all editions have in common:
Inventory Control

Bill of Materials

Work order management

Multi-Level assemblies

Reorder point planning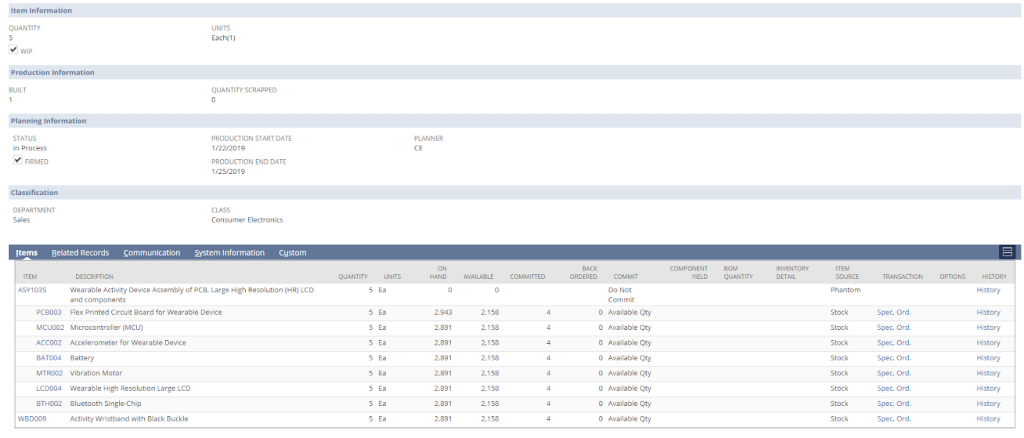 Industries that benefit from Oracle NetSuite for Manufacturing:
Health and Beauty products

Food and Beverage

Consumer Packaged Goods

Medical devices

Transportation and Logistics
Benefits

 
Inventory Management: 
Inventory and manufacturing are two areas that are tightly integrated in NS, with real-time dashboards providing critical informaiton. You can define the materials needed, how many units can be built and production cost, based on below:
How many units of each component and finished product are available

How many units need to be bought or built

What's their physical location
Multi-Location Supply Chain Management:
Multiple physical and geographic locations require a very well defined control system. A company with multiple locations needs to know what items are stored in which location, their quantities and inventory value. Also, multiple BOM's and manufacturing routing processes can be required in different locations. Within Netsuite's integrated interface and reporting capabilities, managing multi-location inventory and manufacturing processes is a breeze. 
Logistics Management:
In order to sell and ship assembly items, the inventory needs to be available. Once an item has been built completely in the system, the quantities of its component are discounted from the inventory. The quantity that was built of the finished good is added to the inventory. 
Given that Inventory, Manufacturing and Logistics are tightly integrated within Netsuite, this item becomes available for sale, shipping or transfer.
Features
Bill of Materials (BOM): Declares the list of components that make up an Assembly Item (Finished Good). These components can be regular Inventory items, raw materials or other assemblies with their own manufacturing process. A single BOM can be used across many assemblies. To add, a single assembly can have multiple BOMs and revisions assigned to different stages of the product lifecycle.
One use case for items with multiple BOM's is a company that builds products in various locations. For example, the BOM used to build a U.S. version of a laptop, can differ than one for the European version.
BOM Revisions: Allows you to keep version control of BOM's anytime there is an update or upgrade to manufactured components.
For example, a company that builds computers, releases new versions yearly with upgrades like a newer processor or a camera.  BOM revisions allow you to move forward with your upgrades while keeping track of changes. You will not need to start from scratch every time there is a change.
Labor Costs: Arguably, the most important aspect of costs, it directly affects the production costs and is usually difficult to calculate. Luckily, NetSuite's analytics provides an easy view into the source of labor cost (direct, indirect, fixed & variable), including employee downtime. 
Cost Templates: For complex processes, you can declare predefined cost structures broken down by each step in your build process. These templates are reusable and will serve as a starting point on every production process, thus saving considerable setup time. 
Material Loss: Scraps and general material waste can account for an important part of the overall manufacturing costs. With Netsuite manufacturing you can easily calculate and write-off these elements with accuracy.
Work Center: Define physical places (like building or packing areas) where at least one step of your build process occurs. These work centers can also be related to particular machinery/equipment.
Work Order: The document that starts the build process. It links all the different system records related to the process and allows you to keep track of work status. This allows you to define the next action, whether it is another build step, or move ahead with sales and shipping. 
Special Order: One common scenario is manufacturing products per customer request. NetSuite is able to start the build process automatically from a Sales Transaction that contains an item that you can build. The sales transaction will automatically create a Work Order and allow you to start the build process immediately.
This allows you to build to order as opposed to build to stock. This can keep your inventory lean for customized industries like jewelry, furniture, bikes, etc. 
Manufacturing Routing: Allows you to define a set of steps required to finish a build process. Each step has its own cost template, materials, required equipment and work center where the step is to be carried out. Once these steps are defined, the status of each step can be tracked independently until the build process is completed.
Any manufacturing routing steps saved in the system can be copied and used to start the routing design for other items.
Analytics: Each one of the above-mentioned features leaves a corresponding transaction reference. Netsuite's analytics & reports will allow you to run detailed reports on all the stages of your manufacturing process.

Why NetSuite Manufacturing?
It's a robust solution designed to handle simple or complex manufacturing workflows in sync with your company's financial data. By using a single familiar interface, there is no need to integrate multiple systems or manually move data between platforms.
Streamlined Manufacturing: manage all areas of your logistics and supply chain management efforts within a single dashboard. Every movement is traceable all the way to it's originating work order. 
Flexible Configuration: this module contains different configuration options that are flexible enough to fit most business requirements. Whether you require:
a simple system to track assembly builds.

a complex process that includes manufacturing routing, work centers, and advance cost templates.
Reports and Inventory Alerts: get real-time reports for your manufacturing process. You can define alerts for low inventory, and even identify events of material wastage. 
Enjoyed this read? Give us a shout or keep on learning 👇
The key to any enterprise system implementation lies in a correct system configuration. Trajectory plays a key role in projects as a leading NetSuite partner with 14+ years of experience with 250 successful implementations. Our team of certified consultants specialized in supply chain management (scm), can help design and execute a successful Netsuite ERP implementation.