"NetSuite is hands-down the best cloud-based ERP out there for professional services, software, marketing & technology companies in the middle-market. Accounting teams specifically love the flexibility in switching modules on/off as they scale, audit trail clarity and the flexible pricing model of paying for what you use without extras."
Alex Olano
President & Operating Partner
Time to Read:

6 min

Who should read:

Controller & Account Manager  

Drink Pairing:

Jasmine tea, with a touch of mint

Need help? We're a hoot to work with, contact us now.
What you'll learn:
What NetSuite is and why it's an industry-leading cloud solution.

The ideal organizational profile for NetSuite adoption.

How to evaluate whether NetSuite is the right fit for your organization – steps, tools & timelines. 
The decision to make a technology solution change is never easy, especially when it comes to upgrading (or implementing for the first time) your core business operations and financial technology solution. 
The stakes are high and change seems burdensome, but if the change management process is done right, the rewards can be plentiful including centralized real-time data and reporting, financial transparency, a 360-degree view of business performance across departments, optimized business processes and automation efficiency gains.
What is NetSuite? 
NetSuite is a world-leading, cloud-based solution that allows for the management of Enterprise Resource Planning (ERP), Financials, CRM, eCommerce, Professional Services, Automation and Inventory in a centralized software. The solution can support global operations and offers its users flexibility, scalability, and ease of use. and it can support global operations.
Pro Tip: To learn more about ERP and NetSuite benefits, visit our What is NetSuite & Why Financial Teams Need it academy page.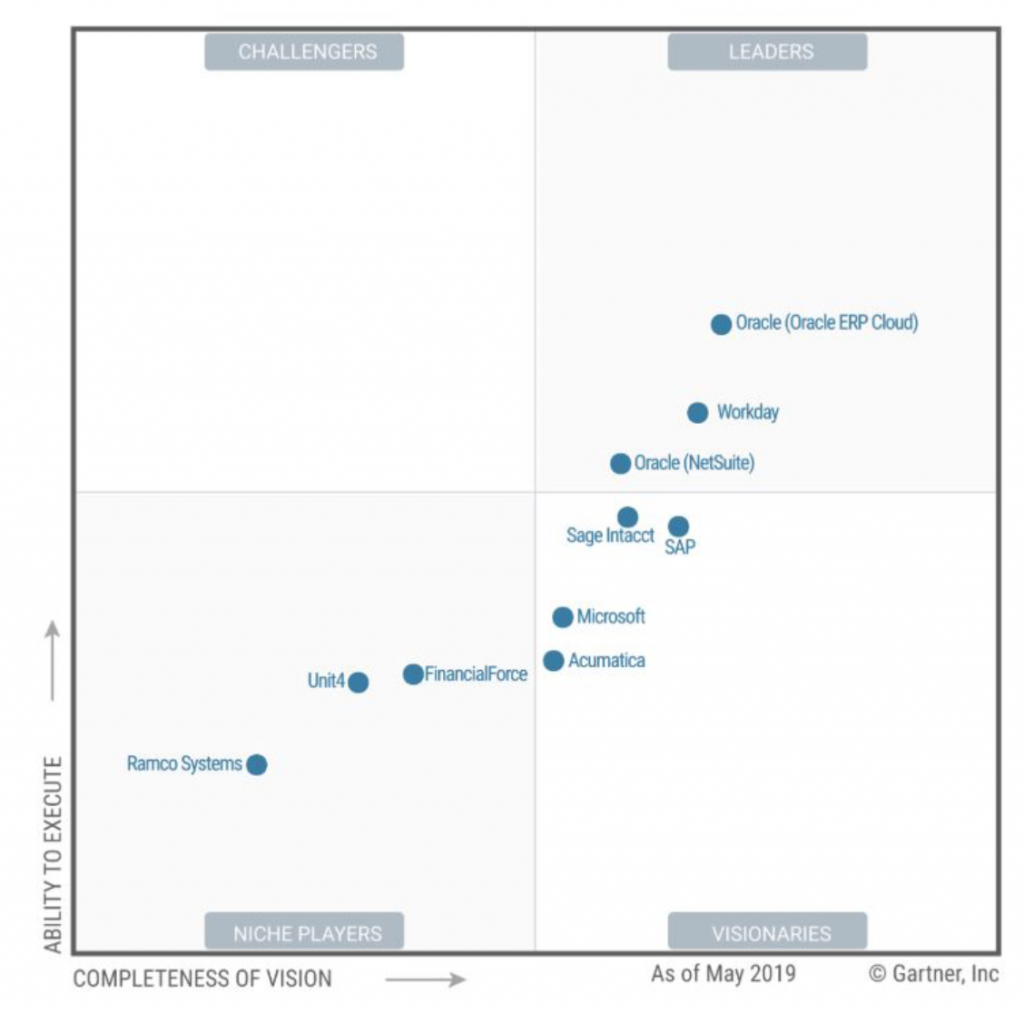 Why NetSuite?
I'd love to just tell you how our clients simply love it, the reduced month-end times, easy reports and the amount of mundane work it simply reduced…but here's some hard data. According to a 2019 Gartner report, NetSuite was selected as a leader in the "Magic Quadrant" (defined as a  high ability to execute on a complete vision) as shown beside. This is based on the fact that it provides the most comprehensive solution that is used by more clients (19,000+), across broader geography (160+ countries) than its cloud ERP competitors.
Main benefits of a NetSuite solution include:
360 Degree View and Transparency of Business Performance

– The

powerful reporting and saved search

capabilities that can be incorporated into user-specific dashboards, showcase the transparency of the centralized solution. NetSuite users can have real-time visibility into business-critical KPIs and general performance metrics relevant to their specific role & team, allowing them to gain meaningful insights and to make informed decisions. 

Relatively Low IT Management Overhead

– Compared to on-premise or a network of various siloed technology solutions, the cost to manage the cloud ERP solution requires less in-house IT management overhead. NetSuite provides a highly secure, cloud-based solution, with built-in redundancy. In addition, at least twice a year NetSuite updates features to upgrade the platform in order to keep up with leading security and compliance standards. This relieves a huge workload that a company's internal IT department would have to manage for an on-premise or custom-built solution. 

Business Process Efficiency & Industry Best Practices –

NetSuite's ability to support multiple streamlined business processes allows for the optimization of processes as well as maximizing the productivity of staff who use the solution. In addition, NetSuite functionality is built based on best practices for various industries (

professional services, software & technology, e-commerce and warehousing & manufacturing).

Scalability

– Implementing NetSuite enables organizations to scale a lot faster than if they were working on fragmented systems, since the platform allows for easy addition of new locations, currencies, departments etc. New acquisitions can be easily incorporated into the NetSuite environment. 

Solution Flexibility

– The solution has been built so that it is highly customizable by end-users, and so that it can be integrated with a variety of SuiteApps that can extend its functionality even further. If you have a tech ecosystem that relies on CRM and homebuilt software, it's okay, NetSuite can connect with those solutions to ensure data alignment throughout the ecosystem. Read our blog on

8 Must-Have NetSuite Partner Apps

to learn about the most popular partner applications. 
Ideal NetSuite-Suited Organizational Profile
We've to lead & consulted on over 325 full-feature NetSuite implementations, the organizations with the following characteristics benefit most from NetSuite:
50+ organizational employee count

3+ member accounting team

$25 to $450 million in annual revenue

Industries: professional services, software & technology, retail & e-commerce or warehousing & manufacturing

Want to reduce the month-end-close process to under 5 days 

Have a CRM that's SalesForce, HubSpot or Marketo

Have an ETL team or understand the concept of ETL

Understand that to implement NetSuite you'll need about 4 to 5 months with full adoption talking about 12 months
Is NetSuite the Right Choice for Your Organization?
Evaluating different business technology solutions can be daunting and essentially boils down to solution functionality to satisfy business requirements and price. To begin the evaluation process, it's important to start with a clear understanding of your business processes, your mid to long-term organizational goals as well as your budget. Defining your requirements and budget will determine the functionality that you will require from the technology solution as well as what you can afford. 
Next, seek out solution options that address your requirements. To do this, there are a variety of software comparison and review sites like Capterra.com that can provide feature comparisons, customer reviews and insights on the different options available. 
For in-depth comparisons of how NetSuite stacks up against its main competitors, Microsoft Dynamics and Sage, visit our comparisons academy page here. In terms of getting a sense of pricing, contact us or visit our NetSuite page to understand approximate implementation costs for a NetSuite solution based on organization size. 
Pro Tip: It is wise to contact potential solution providers to get a sense of their pricing & project methodology before you get too deep into the selection process, in order to rule out any non-feasible options early.
Implementation Preparation Timelines
Like most business transformation initiatives, implementing a new ERP solution is not an overnight or cheap undertaking. After all, your ERP system is going to be a foundational element of your organization's business operations, finance and budgeting infrastructure for years to come. 
It is important to do your research of alternative solution options, validate them against your business requirements and seek help to prepare for a successful implementation. The research and preparation processes are likely to take 9 to 12 months or more prior to system Go-Live. Solid planning and organizational preparation are key to ensure that the solution is going to be the right fit for your organization to meet current and future business needs. 
Typical timelines and steps for effectively evaluating, selecting and preparing for an ERP software implementation include:
T – 48 weeks – Business Requirements Gathering >

Determining the key functionalities of the solution that will be required based on business needs. Be sure to identify "must-have" vs. "nice to have" solution features. This is the time to question current processes and procedures and seek to implement best practices.
T – 40 weeks – Determine Solution Selection Criteria > In order to make the selection process as unbiased as possible, document if there are any other selection criteria, above and beyond business requirements i.e. security concerns, access details, licensing stipulations, holistic tech-ecosystem impact. 
T – 38 weeks – Request for Proposal (RFP) Creation > Compile the business requirements that you have identified in a single document that includes an indication of "must-haves" and "nice-to-haves" features and functionality that you can share with potential solution providers in order for them to prepare proposals. Be sure to include details on core business processes that you want the solution to replicate.
T – 36 weeks – Solution Options Review >

Review the solutions options and determine how they stack up against the business requirements. 
T – 34 weeks – Shortlist Solution Option Demonstrations >

Determine a shortlist of options and request demonstrations of core business processes including must-have functionality as well as any business-critical functionality that you are worried the solution won't be able to address. 
T –  30 weeks – Selection of Solution >

Select the solution and work out contractual details with the help of your ERP solution partner. 
T – 26 weeks – Identification and selection of implementation partner >

Research the implementation partner firms, often your solution sales representative will be able to provide some preferred implementation partner options in your area.
Pro Tip: your implementation should always be done by a consulting partner shop due to their experience with implementing software for various industries. 
T- 22 weeks – Implementation Partner Engagement >

Once selected, the implementation partner will engage and prepare for blueprinting efforts (requirements gathering).
T- 20 weeks – Blueprinting >

Consultants will document your business processes and determine the optimal configuration of the solution to meet your business needs. 
T- 16 weeks – Solution Build >

Implementation team configures the solution to meet your requirements. 
T = 0 – Solution Go-Live >

New solution is launched.  
Post Launch >

Solution fine-tuning, optimization and addressing support needs.
Pro Tip: Note, a typical system implementation timeline from implementation partner engagement to Go-Live ranges between 4 to 6.5 months depending on the level of implementation complexity.
Read the popular article The Complete NetSuite Implementation Guide to learn the critical steps required for a successful ERP implementation.
To sum-up & what to read next: 
Determining whether NetSuite is the right solution for your organization requires thorough analysis, research and evaluation. Visit the FAQ page to know the top questions and answers made by the
NetSuite community. To learn more about how we could help in the evaluation or implementation processes of your technology ecosystem, contact us to help you hone your solution selection criteria.
Dive deeper into the core

NetSuite modules & their features

Data migration is critical to ERP success,

get to know data migration