"How you gather, manage, and use information will determine whether you win or lose."
Bill Gates
Time to Read: 7 min
Who Should Read: Chief Financial Officers & Accountant Experts
Drink Pairing: Godfather 🥃
Special mention to Anderson Frank
What you'll learn: 
What is the NetSuite Fixed Assets Management (FAM) module?

How FAM works and what is involved in it.

Cool FAM features and lifesavers. 

Why you need the FAM module in your system.
One of the biggest challenges for accounting teams is to provide accurate fixed assets management and reporting. Organizations take up the gauntlet when tracking asset conditions, locations, and depreciation status. Often, companies have to create their own tracking methodologies with codes and asset groups that are still hard to understand. 
Fortunately, NetSuite gives us a helping hand to approach these complex processes and make them easier for everyone. The FAM module is a robust and integrated platform that will definitely make your asset management way easier for your accounting team as outlined below. 
1. What is the NetSuite Fixed Assets Management Module
The NS FAM is a SuiteApp that provides automated management of fixed assets acquisition, depreciation, revaluation, and retirement, as well as maintenance schedules and insurance. NetSuite provides an integrated solution that tracks the entire asset life cycle, from purchase to disposal. You can also import new assets, mid-life, and long-term assets into NetSuite to track asset depreciation, including the depreciation history of mid-life and long-term assets.
The FAM SuiteApp offers a highly customizable structure for your assets, creating asset types and groups with extremely detailed information fields so you don't lose any relevant data.
In a very general application, the NetSuite FAM SuiteApp works connecting Vendor Bills (Procurement component) to incorporate every new asset to the company resources family as you can see in the following diagram.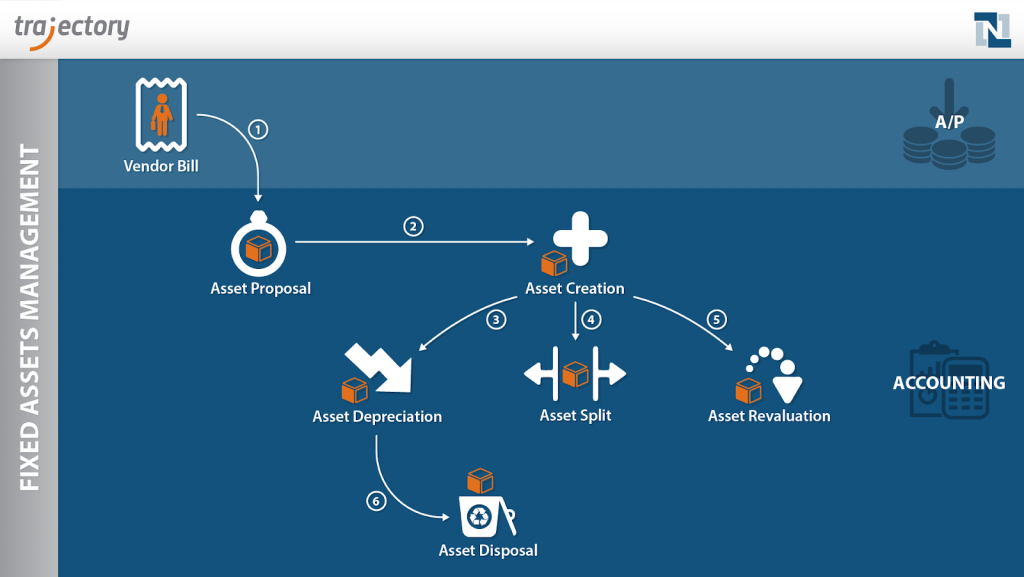 2. How it Works and What is Involved in FAM
This SuiteApp works separately from the rest of NetSuite, and it has its own tab. Before explaining how easy it is to use, let me further elaborate on the configuration complexity.
2.1 Configuration
A. SuiteApp Installation
What every company that wants FAM on their NetSuite Account should do first is install the SuiteApp in their systems. Upon installation of the NetSuite Fixed Assets Management bundle, the following functions are already defined:
FAM Accounts:

To impact your balance sheet and assets-related reports, the FAM SuiteApp is connected with the accounting side of the system.

The fixed asset module in NetSuite adds the following account types:
Asset Account

Depreciation Account

Depreciation Expense 

Write Off Account 

Write Down Account 

Disposal Cost Account

Depreciation Methods:

Defines how your asset depreciation functions. The system provides standard methods such as straight-line depreciation, which is the most common nowadays, but

you can create your own methods and formulas to set a custom depreciation rate!
Asset types: Classify your assets like a pro, electronics, transport, furniture, or any asset type that your organization could have.
The foundations of Fixed Assets in NetSuite depend on the configuration of these elements. There are multiple and complex configurations to link, e.g. an asset with an account associated with a type and finally a depreciation method. These provide accurate financial statements and reports with just a few clicks. FAM is a long journey that we truly recommend managing with an expert. Once the configuration is done, the user gains an incredibly powerful tool that is fully connected with your organization in NetSuite.  
B. Asset Proposal and Asset Creation 
As I mentioned earlier, it all begins with a Vendor Bill. This bill has to be posted against a Fixed Asset Account to become part of your assets. Once you complete this process, you can start creating an Asset Proposal. An Asset Proposal is basically a record that defines how your asset will perform in the future, the asset lifetime, which method it will use, posting accounts confirmation, among many others. 
What is great about this module is that you can classify it in a very detailed way. Every asset can be tracked to maintain total control of every aspect, have precision calculating depreciation, and ultimately gain confidence in your business operations.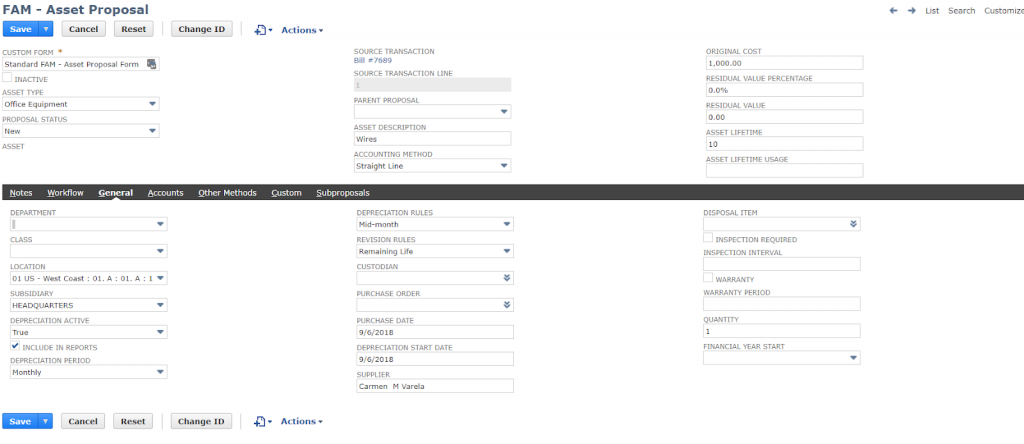 Once the proposal is finished, to jump onto the next step, you have to generate the asset to incorporate it into your assets list. Assets can be also imported using the CSV import functionality. This option is recommended when the company needs to include mid-life or long-term assets that have already accumulated depreciation. 

When using the regular process, once you have the proposal ready, click on "Generate Assets" to start the Asset creation.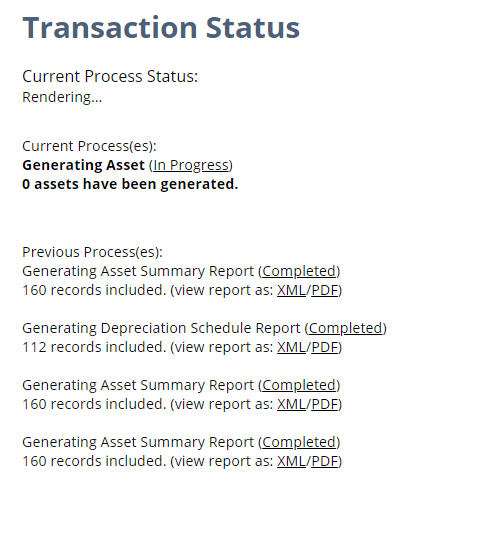 2.2 Using FAM in NetSuite
After your assets are imported, you have the chance to track all the depreciation of fixed assets scheduled, see the current depreciation period, calculate the annual depreciation, review how many periods remain to depreciate, as well as their respective depreciation amounts. 
Here's an example of a fixed assets depreciation schedule: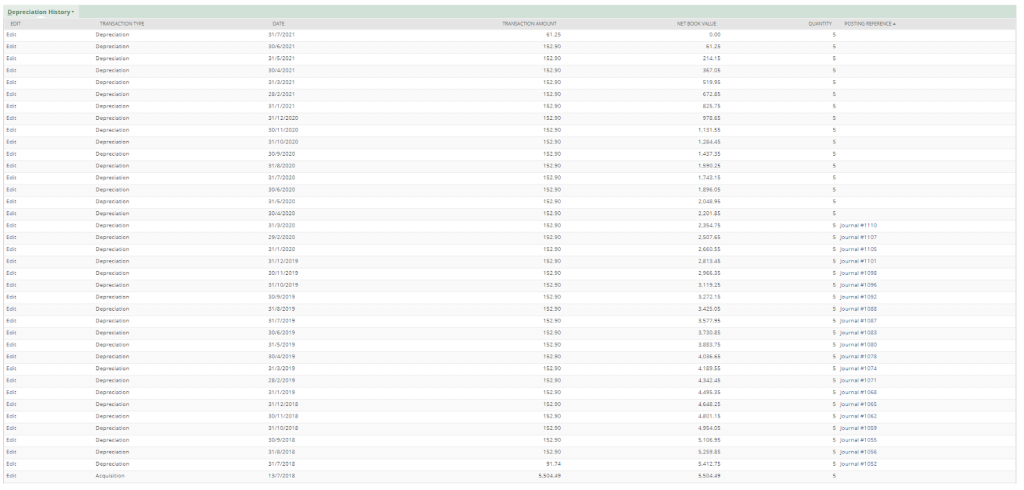 Following this configuration process, running your depreciation every month (or any desired period) becomes an easy task, and this is why this fixed asset management SuiteApp is so good.
ProTip: Keep in mind that the module is not fully automatic, so your depreciation has to be run manually every month.  
To depreciate your assets, you have to go to the Fixed Asset tab and select Transactions > Asset Depreciation.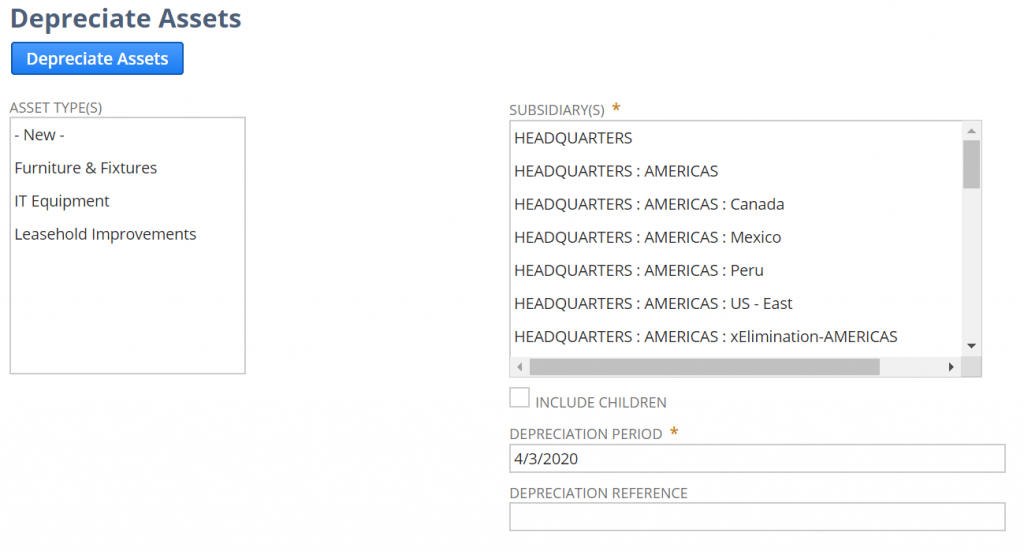 Select the Asset Type (one or more), the subsidiary (one or more), the depreciation period, and just click on "Depreciate Assets" to make the magic happen. 

The process will start to run to complete the following processes: 
Update Related Records

Update Compound Assets

Update Tax Methods

Update Asset Records

Prepare Data to Update Records

Create Journal Entries

Generate Depreciation Schedule Values
What comes next with this SuiteApp is the reporting and searching peace that offers clear information about your assets. The biggest differences between a regular NetSuite Report and a FAM SuiteApp report are:
 The ability to configure what you want to see in the report

in terms of NetSuite classifications, asset type, start & end dates, and more.

 

The FAM SuiteApp generates XML or PDF reports

instead of an on-screen report. Here's an example of how a PDF report looks: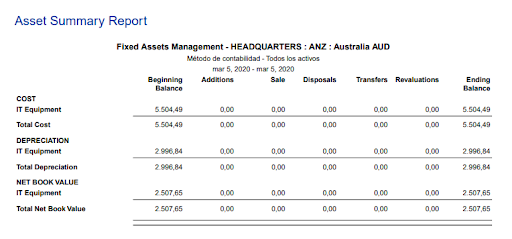 Cool Features and Lifesavers 
Some of my favourites are asset classification and organization. The level of information detail is exceptionally great for organizations that want to keep track of every aspect of their assets. Lease, Insurance, Warranties and Maintenance information is included in the asset record, which is such a great thing, isn't it?
You don't remember the details of your chair's warranty or even where you bought them, do you? With this SuiteApp, you would know! 

No doubt you must be wondering whether the asset record contains the cost of the asset, accounting periods, number of years or periods, depreciation method type, such as the straight-line method; well, the FAM bundle does exactly that. It is a solid solution that has evolved over more than 20 releases since its very first version.   
Among other significant aspects worth mentioning, you can create any depreciation method. The SuiteApp has some great standards such as straight-line depreciation, but what is truly outstanding is the fact that it supports depreciation formulas that can be used to address even the most complex asset management needs. Methods work independently from assets so you can use different schedules depending on what the scenario is, or the opposite, repeat a method for different asset types.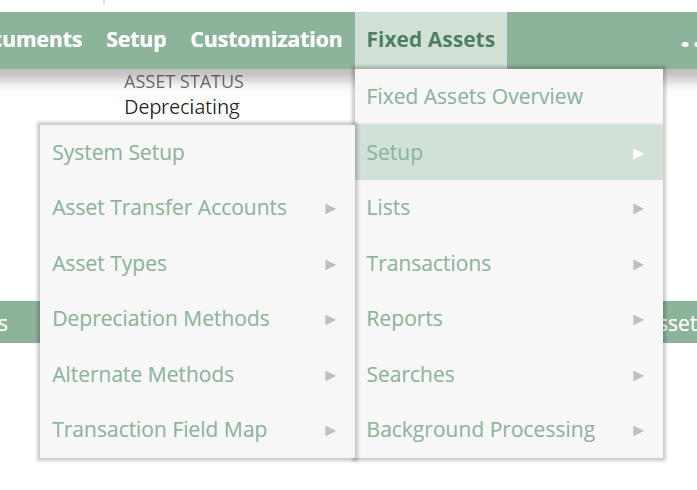 Why you need the FAM module in your system 
Asset Management is not a simple task for organizations. What NetSuite offers is a user-friendly solution to manage assets for companies of any scale, and the same structure logic to manage the rest of the system. NetSuite FAM is cost-effective and time-saving, allowing you to achieve significant outcomes.    
We have to tell you that the FAM configuration process is not as simple as its usage. We have experience doing this configuration for many customers that have faced the experience of FAM without this bundle on their accounts. Now they are over the moon with it.
Insights recommendations: