"Often the problem lies not with the ERP concept. But in the demand for quick fixes and rapid cures to underlying structural problems."
Dr. Ravi Kalakota & Marcia Robinson
Selecting an ERP is more than just analyzing features and cost, it requires an understanding of business needs, equally important is the feeling it instills in your organization.
What you'll learn:
NetSuite ERP features

Microsoft Dynamics features

How to select the right ERP software

Comparison List of benefits & features

Our take on it
Time to read:

12 min

Drink pairing:

Earl Grey Brewed Tea

You are:

A Financial Guru

For immediate support:

if you need a demo, or immediate support

drop us a line here

& we'll reach out asap
How does an Ideal ERP look like?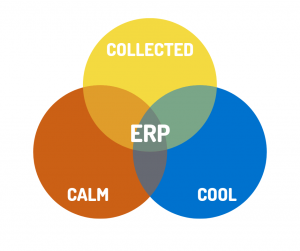 Changes represent challenges for every company. While implementing an ERP or any business intelligence tool, it's crucial to generate a strategic plan to ensure the organization doesn't lose its balance.  
The ideal ERP looks like a high-resolution picture, where you can easily see the whole panorama and still, appreciate every minimum detail. That's why we encourage our readers to do their research under C-Triangle parameters, referring to an ideal ERP as cool, calm and collected.
Here's a quick visual of what qualities your ideal ERP must showcase:
Cool: have a brilliant user experience. This helps with implementation & user adoption.
Calm: is adaptable. Calmly adapt to your core business practices & be able to integrate with existing/future business-critical apps.
Collected: is scalable & customizable. Staying collected to support future growth
Before we evaluate how two giants in the industry, stack up against "The Triple Cs". Let's take a look under the hood of these two systems.
Microsoft Dynamics ERP system
The tech giant, Microsoft Corporation, offers a series of products for a holistic enterprise solution: 

Dynamics AX
Dynamics GP
Dynamics NAV
Microsoft Dynamics Criticisms
Before we talk about what Microsoft Dynamics is (MSD), let's see what the top critical users from the wonderful web are saying about the system:
Changing budgets:

As robust as Microsoft's Enterprise Resource Planning products can be,

any kind of customization generally requires IT engagement

and internal resources, driving up the cost. In fact, a complete Microsoft Dynamics ERP offering often is a combination of multiple Microsoft systems requiring integration with tools such as MSD CRM, financial planning tools (FP&A) and etc. This could mean customization cost right off the bat along with the recurring costs to update these systems as needed. For those keeping a close eye on the project budget, you probably want to consider this in your calculations by accounting for these potential initial and recurring customization and maintenance costs.

Challenging Growth:

MSD's three different product lines are organized in a tiered structure with basic, medium and advanced functionality. This

can be a deterrent for companies with requirements that fit in between tiers

. For example, if you need more than basic but less than medium functionality, you'd incur an additional cost – paying for customization or unnecessary features. If you are looking for more flexibility in terms of price and functionality, you may want to first see how your business fits into out-of-box Microsoft ERP solutions.   

Not recommended for beginners:

using Microsoft ERP platforms could be overwhelming

for a user with no prior enterprise systems or IT experience. This could complicate implementation, training and adoption for the end-user. Additionally, customizing and exporting reports could prove to be tedious in the system. If change management is a top priority in your books, you will not want to overlook this criticism.
Microsoft Dynamics Benefits
Originally started as an on-premise solution, it has quickly made its mark in the cloud business management software space. Dynamics can be hosted in the cloud or on-premise. So what is it about MSD that makes it appealing to accountants, controllers and ERP vendors?
Microsoft's ERP solutions offer a single tenant solution:

the system operates on independent servers for every single customer (own database and supporting infrastructure), allowing organizations to have absolute control over system updates and maintenance. Many users prefer this solution as

it allows them to dictate the timing of updates to the software

. So if you are concerned about automatic updates potentially impacting your day to day business processes, this feature should put you at ease.

Being part of the Microsoft umbrella

gives MSD

ability to natively connect with Microsoft productivity tools such as office, outlook, Power BI and LinkedIn.

Microsoft's line of enterprise products combine to offer a powerful and robust system

: With the help of IT folks, it can be configured to handle most business processes.

Ideal HR Management:

HR management for MSD

offers holistic human resources solutions

, supporting the whole employee life cycle,

from recruiting, administration to talent management

. Users are able to manage the recruitment process every step of the way – application, offers, employment or rejection. This helps HR departments effectively meet & manage the potential of employees while reducing administrative costs. Some key highlights:

Employee development

is a valuable feature which

allows the employees to plan and execute a strategy to meet their career goals

in sync with organizational goals.

Absence management

is another feature that impresses many HR users due to its ability to effectively track and monitor absences and to identify trends in terms of dates and types of absences. This allows organizations to understand the needs of their employees, and identify productivity bottlenecks. If HR management is an obstacle to your organization's growth, MSD might be the remedy it needs.   
Most of us have used Microsoft office and outlook in some capacity, personally and/or professionally, it adds a familiarity factor when using MSD. Many organizations see this as a value add because having familiar systems reduces the initial learning curve. Especially, ERP's ability to connect with Power BI and Linkedin gives it a sustainable advantage when it comes to, advanced analytics and sales optimization, respectively. So if your organization heavily relies on these tools, it might be worth it to have Microsoft's ERP system on your radar.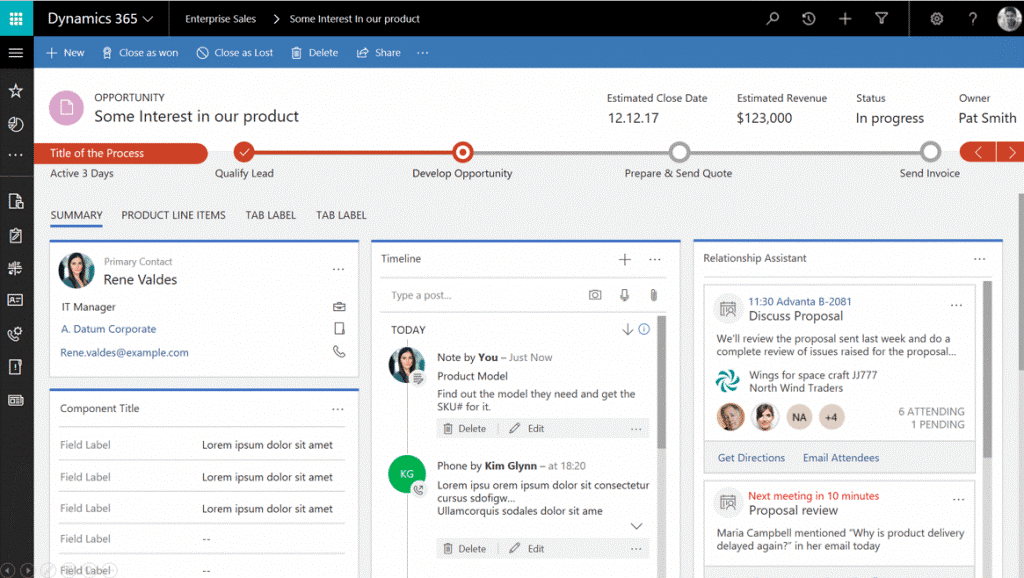 NetSuite ERP system
NetSuite is an American cloud-based business management solution which provides a suite of financials/Enterprise Resources Planning.
NetSuite Criticisms
Mass Updating:

it is a multi-tenant solution, which means users do not have control over system updates and the system is automatically updated universally.

NetSuite does announce updates in advance

with its implications to give businesses time to prepare, but if the organization is not proactive, it could impact key business processes. So if your company requires control of system updates, NetSuite might not be your go-to choice.

Average User Experience:

Although the system is very usable, critics think the interface is outdated with too many tabs and subtabs, which could be difficult to navigate for the new user.

Lack of Breadth:

If you are looking to satisfy niche requirements that demand extraordinary functionality, NetSuite as most other business solutions may not be your first choice. The system is built to accommodate most business processes, lacking the ability to accommodate unique businesses. So if your organization is in a very niche industry, you may run into some functional limitation with NetSuite, in accommodating your unique processes.
NetSuite Benefits
As an overall package, NetSuite packs a better punch and value for money since it is a native saas. It was built with the sole purpose of delivering business solutions on the cloud. For your business, it means no overhead cost, regardless of the complexity of the solution:
You do not need on-site equipment
Better performance on the top servers

(iOS, Android, Windows, macOS, and web-based).

Taking away hosting and maintenance trouble

(so your resources can focus on using the program and not maintaining it)

Users also prefer NetSuite's agnostic software due to its flexibility,

which makes it extremely scalable for growth. One system is offered to small, medium and large businesses with options to add features as you need them. You will not need to spend money on a new Enterprise Resource Planning if your business needs to evolve over time.
Most of the customization can be done via add-ons (Suite Apps) and configuration without custom IT engagement. However, where integration is required, most NetSuite connectors are either widely available or could be built seamlessly because of its simple infrastructure. Most popular software vendors (FloQast, Adaptive, Avalara) have native apps to connect to NetSuite.
Most robust financial module NetSuite's financial module and reporting might be its biggest standout feature as ERP is highly regarded as the world's top financial management system. From strong expense management, accurate revenue management and real-time visibility of critical financial information.
NetSuite has quickly become the weapon of choice of many controllers and accountants. Financial users appreciate the thorough financial functionality, easy to generate reports and customizable dashboards tracking key performance indicators (KPIs) as it gives them the flexibility to have a holistic view of the organization, along with the ability to drill down and analyze key data when needed. In many cases, organizations will choose NetSuite as their ERP solely due to the strength of its financial reporting.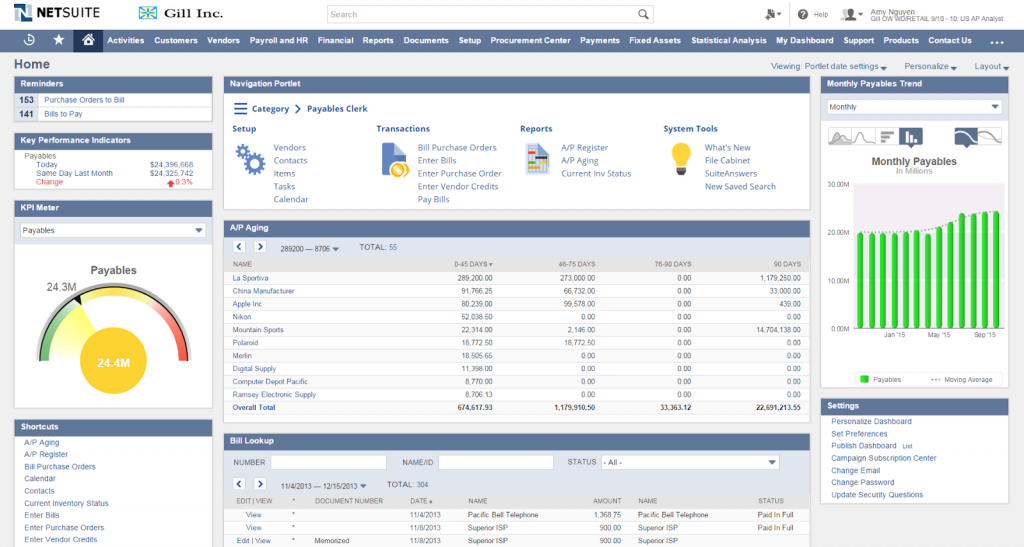 NetSuite vs Microsoft Dynamics
Targeted Industry Types
MSD is ideal for smaller businesses and best supports: manufacturing, services and unique industries like nonprofits.
Manufacturing

Services

Food and Beverage

Transportation & logistics

Non-profits
NetSuite applies to a bigger range of industries and is for medium to large companies they are able to support a greater breadth of companies due to its top tier financial module.
Retail & Ecommerce

Manufacturing

Software & IT Services

Financial Services

Digital Marketing & Media

Others
Although every business is unique in some manner, the following criteria can act as deal-breakers for accountants, controllers and CFOs.
The legend – by thumbs-up:
Great        

👍👍👍👍👍

Good        

👍👍👍

It works 

👍👍
Key Factors

 Microsoft   Dynamics

 NetSuite   ERP

# of User Licenses MSD is able to support a larger user base because its offering includes multiple product lines while NetSuite is able to support the majority of companies but is limited when it comes to fortune 100 enterprises, at this point, it might be better to look at larger more complex solutions such as SAP.

*Based on multiple lines of Microsoft ERP products

1000+*

2-999

The breadth of Features

MSD offers a greater range of features (especially for transportation and manufacturing) as it is able to accommodate unique processes, more than NetSuite.

👍👍👍👍 👍

👍👍👍👍

Quality of Features

Although MSD offers a wide range of features, it comes at a cost of sacrificing the quality of those features. Features offered by NetSuite function at a higher quality, due to its nativity to the cloud.

👍👍

👍👍👍👍

Ease of Use

Both ERP systems are easy to use but leave something to be desired when it comes to user interface as Microsoft could initially be difficult to use due without technical experience while NetSuite is knocked for an outdated interface.

👍👍👍

👍👍👍

Ease of Customization

MSD  is extremely customizable but it requires IT engagement while customization in NetSuite can be done mostly by configuration.

👍👍

👍👍👍

Company Size

MSD can be applied to the business of any size – another advantage of having multiple product lines, while NetSuite is only applicable to small or mid-sized businesses.

🅢 🅼 🅻

🅢 🅼 🅻

Scalability

MSD is not as scalable because a business can outgrow one of their products and will need to implement another system, while NetSuite's ability to turn features on and off within the same system to fit business needs within the same system makes it much more scalable.

👍👍

👍👍👍👍

Deployments

MSD is deployed with some combination of the cloud and on-premise, while NetSuite is strictly cloud-based.

Cloud/On-premise

Cloud

3rd Party Integrations

MSD is seamlessly able to connect to other Microsoft apps; however, its ability to integrate with other 3rd party software is a known gap. NetSuite, on the other hand, is built for the cloud and offers more APIs, making it more interoperable.

👍👍

👍👍👍👍

Customer Support

Microsoft's customer service is known to be more helpful, as NetSuite users frequently rely on implementation partners for support.

👍👍👍👍

👍👍

👍

Pricing MSD and NetSuite are generally on par when it comes to cost. However, MSD's customization costs to incorporate additional modules like CRM can add to the initial cost.

$$

$$

Value for Money

Although Microsoft Dynamics offers plenty of value with its offering, the rigid pricing model reduced its value for money as you could be paying for features that you may not need. On the contrary, NetSuite's offers a better bang for the buck due to its flexible pricing, so you only pay for what you need.

👍👍👍

👍👍👍👍

Popular Module Comparison

General Accounting

NetSuite is widely recognized for its accounting prowess due to  breadth of features. Although MSD offers all

the standard accounting features, NetSuite's offering of features like multi-company & consolidation and subscription billing really puts

it head and shoulders above MSD.  

👍👍👍

👍👍👍👍👍 

Project Management

Both systems offer project management feature, however, NetSuite's offering is more holistic with additional value added features like resource, timesheet and expense management.

👍👍

👍👍👍👍

Order Management

Microsoft Dynamics and NetSuite both present a strong order management module packaged in their own way. Microsoft offers order management functionality as part of their CRM add-on for standard functionality and in the form of sales configuration module in Microsoft GP for more complicated needs. NetSuite offers more of a holistic order management module covering everything from order entry, invoicing, fulfillment payment to returns.  

👍👍👍👍👍

👍👍👍👍

Warehouse Management

Microsoft Dynamics offers a very strong module for AX targeted at logistics heavy business with features like Random Location Storage and RFID capabilities. This module is limited in GP and Nav products. NetSuite also offers a strong module in the form of Warehouse and fulfillment app with stand out features like real-time data visibility.

👍👍👍👍

👍👍👍

Inventory Management

Both systems offer very strong inventory management modules contributing to their large presence in the manufacturing industry. Microsoft Dynamics AX's inventory control feature put it tab bit above NetSuite.

👍👍👍👍👍

👍👍👍👍

eCommerce

NetSuite and Microsoft both offer above average unified e-commerce functionality through Suitecommerce and Dynamics 365 for retail, respectively. However, mid-sized businesses frequently leverage 3rd party software for their e-commerce needs. The benefit od using Suitecommerce is that it's friendlier than that of Dynamics and is directly built to work with the ERP native features, it is not a reskinned integration, it is built for NetSuite.

👍👍

👍👍👍

Customer Relationship Management (CRM)

Microsoft Dynamics 365 CRM+ is one of the industry leaders and certainly takes the cake over NetSuite CRM largely due to Microsoft productivity tools like outlook and LinkedIn sales navigator and more reporting options.

👍👍👍👍👍

👍👍👍

Subsidiary Management & Multi-Currency

Although both systems offers these two features, NetSuite's offering is much stronger with features like multi-language, multi-subsidiary consolidation, multi-book accounting.

👍👍👍

👍👍👍👍👍

Revenue Recognition

This module is a major reason NetSuite is recognized as an industry leader in financial management with features like fair value allocation as part of advanced revenue management. Microsoft offers basic revenue and expense deferral as part of their GP product.

👍👍👍

👍👍👍👍👍

Availability of Apps & Integrations

NetSuite offers web APIs making it easier for developers to; create suite apps that run inside NetSuite and integrate with 3rd party software. Microsoft's productivity tools like outlook and office seamlessly connected to the ERP, however, it runs on SQL servers, which requires heavier IT engagement to connect with other apps and 3rd party software.

👍👍👍

👍👍👍👍👍

Financial Planning & Analysis (FP&A)

Microsoft offers FP&A through one of the most powerful tools in the industry in PowerBI, which easily triumphs over NetSuite's offering of basic budget forecasting capabilities.

👍👍👍👍👍

👍👍👍
So, how do you select the right ERP system?
Now that we have a general understanding of both systems, good and bad, it's time to dig in further to help make your decision. But you may be thinking, "Jeez Pranshu, sounds like both systems are pretty evenly matched. How do I decide which one is going to work better for my organization?
As a consultant who has experience implementing ERPs for companies of all shapes and sizes, I rely on the C- triangle (Criteria triangle) to help me make my decision. Let's explore which one is cooler, calmer and collected individually.
Cool:
easy to use and adopt
NetSuite's interface is user-friendly and hasn't changed much since inception. Although some may perceive this as an outdated interface, I believe there is more value in consistency as it minimizes the anxiety of learning to use a new system. This makes it easier to adopt and implement.
Microsoft Dynamics, on the other hand, is difficult to use without technical acumen, making it hard to adopt and implement. Overall, I think the ease of use and implementation allows organizations to stay cool amidst change, allowing them to get the most out of their ERP applications. So unless you are an organization made up of developers and IT folks, choosing NetSuite will definitely make life easier for your users. NetSuite certainly gets the cool points in my books for making it easy in a multitude of ways.
Calm:
is adaptable to your core business practices
NetSuite stays calm among chaos as it is more adaptable in its native environment (the cloud),  especially when it comes to customizing the software system to fit a company's core business processes.
Microsoft Dynamics, on the other hand, started as an on-premise system, which has since been repacked to work on the cloud. Although the Microsoft offering has come a long way since its inception, there are still kinks that exist in its marriage with the cloud in terms of adaptability.
Similar to me as a person, It is easier for me to adapt to change when I'm at home than in a foreign setting, where I might be anxious and more rigid. NetSuite's flexible pricing is also a result of it feeling right at home in the cloud, as it allows for businesses to pay by features that can seamlessly be turned on and off, rather than having to choose from rigid products with set features. So unless you are part of a very niche industry demanding unique functionality, you will benefit from using NetSuite in the long run.
Collected:
is scalable to support future growth
When a company experiences growth, it is generally accompanied by more complex needs and additional functionality. In such events, NetSuite is able to stay collected due to its scalability as it can support business demands by simply turning on feature sets, without a system overhaul. The users simply have extra tabs available in a system that otherwise remains unchanged.
MSD, on the other hand, has multiple products which creates gaps into which businesses could end up falling into. For example, let's say I am using Microsoft GP (most standard out-of-the-box product) as a mid-sized business and my business experiences growth in Europe needing strong multi-currency functionality. I am left with two choices – settle for limited GP multi-currency functionality and not fully support the growth of my business or implement Microsoft NAV to get optimal functionality and incur additional implementation and training costs. Talk about being stuck between a rock and a hard place.
So, NetSuite would be my choice if I am part of a growing business with changing functionality because of its scalability – staying collected in the face of change.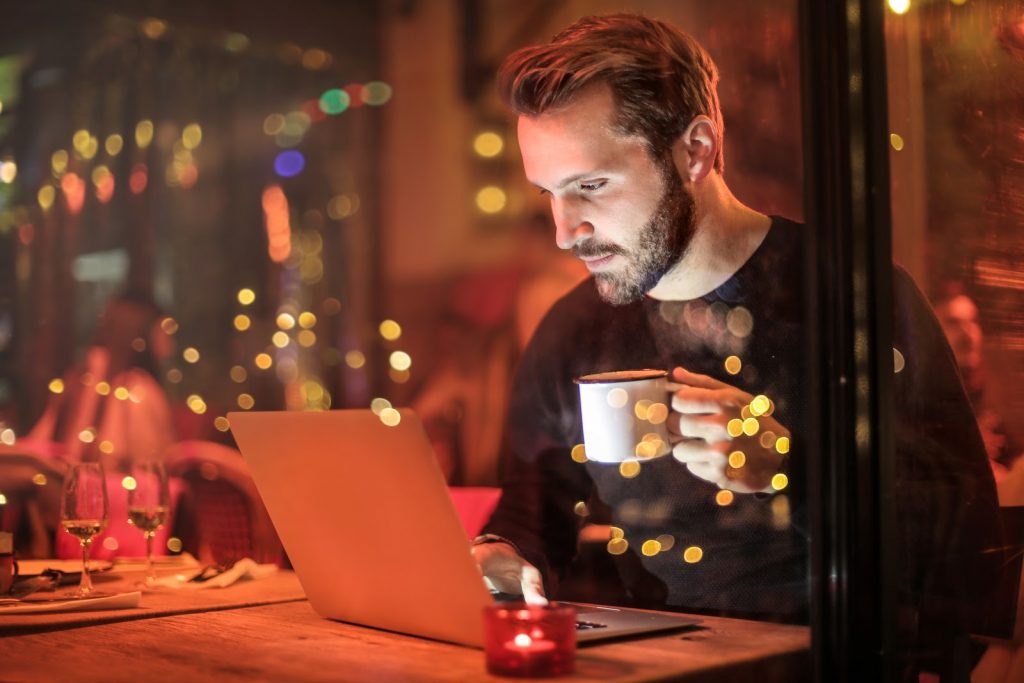 The Verdict
Acquiring an ERP is a huge step for any organization, so while you keep doing your research, keep in mind the Criteria Triangle and Key Factors to evaluate each program properly.
Unless you have very unique business needs or enjoy having budget conversations with the boss, the choice is easy. I would want a system that is able to stay collected amidst change without tying up my resources that are so essential to a growing organization.
As a certified consultant, must highlight that as important it is to get the right system, it is just to find the right channel partner to implement/optimize. Without the right help, you will rarely be able to use the system to its full potential, or would you fill a Ferrari with diesel? In case you need a hand with a quick demo or selection, give us a shout.