"Synchronization is the key element to drive your eCommerce strategy. Enhance efficiency on sales orders, customer billing, inventory, shipping and fulfillment by automating the sync between your systems."
Hector Parada
Integrations Services Manager
Trajectory Group
Time to read:

10 mins

You are:

CTO, COO

Drink Pairing:

A glass of Merlot 🍷
It is a difficult time for many yet a prosperous era for others
While the global pandemic has caused many businesses to suffer, certain industries are thriving. Companies in the airline or automotive industries are in crisis mode, but the grocery sector is booming. Suppliers of those businesses are also thriving.
Businesses in growth industries are using their systems at record-level volumes, and some are seeking new sales channels – most notably eCommerce platforms. A report by Digital Commerce 360 shows that eCommerce sales during the second week of April 2020 were 68% higher than the same period in 2019 and 55% higher during the 3rd week of April. So, what does this mean in the world of enterprise applications?
Leverage eCommerce platforms to capitalize on current trends by using pre-built, easy-to-use sync templates
If you don't sell your products online, now might be the time to look into eCommerce. Shopify is the leader in this space, offering a simple methodology for building your eCommerce business. But you're probably wondering, "how do I ensure my back-end processes remain in sync with what's happening on the front end?"
The key is using a reliable eCommerce integration to keep all aspects of your business connected. Dell Boomi fits this bill!
What's Dell-Boomi?
Dell Boomi is an integration PaaS offering pre-built templates that can be easily deployed and customized to suit your business needs. This creates a feed that passes data between your systems – virtually in real-time!
Imagine receiving a purchase request from customers, including information like SKU#, quantities, timelines, and discount codes electronically and with little manual intervention. This adds efficiency to your operation and brings satisfaction to your customers. We've seen numerous sales processes delayed because customers email purchase orders with incorrect SKUs or missing product information. Integrating your systems with your customers' order management platforms eliminates this waste. 
Also, using an integration platform designed around the specific functionality Shopify and NetSuite are built on reduces the customization needed to sync your systems. 
You'll achieve three big wins:
A cheaper implementation – Leveraging out-of-the-box functionality means a smaller chance of going over your budget.
Shorter Timeline – Using a standardized approach, with minimum custom coding will get your integration live faster.
Smoother Maintenance – Tweaking your integration after go-live is a lot easier than if your integration was built using custom coding.
How does this work?
Scenario: You're a craft beer brewer using NetSuite as your accounting platform and your WMS. You'd like to sell your products through additional channels, and decide to set up a store on the Shopify platform, enabling customers to order beer directly to their houses.
Without an automated data flow between NetSuite and Shopify, you'll run into issues:
Manual Processes –

It's great that customers are placing orders in Shopify, but you need to get these orders into NetSuite to fulfill them, and invoice customers. Without a templated integration, your options involve either serious manual work, resulting in inefficiencies, or a complex custom integration requiring continuous maintenance.

Inaccurate Inventory Levels –

Customers won't know whether or not you have a product in stock when browsing your Shopify storefront.

Order Tracking –

Customers expect to have visibility into where their order is at all times. Without a NetSuite-Shopify data integration flow, it's hard to keep customers updated on the progress of their order.

Lack of visibility into Returns/Credits –

Processing returns, refunds, or credits becomes difficult as the statuses of these transactions won't be updated between both systems without a two-way sync.
Dell-Boomi's forte is that they've created predefined templates with integration points between prominent cloud-based applications, like NetSuite, Salesforce, Shopify, and others. Templates can then be tweaked to fit your processes.
For example, you can map orders in Shopify to sales orders in NetSuite, or opportunities in salesforce to sales orders in NetSuite. You also have flexibility on specific pieces of information you'd like synced. If you're a business that's required to provide details to your customers, like manufacturer part numbers, serials, country of manufacture, warranty codes, etc., you'll find this flexibility valuable.
The result is an elimination of barriers between you and your customers
Dell-Boomi solves the issues discussed above. For example, keeping NetSuite-Shopify inventory levels synced ensures your customers have visibility into whether a product is in stock. This enhances your customers' shopping experience, improves customer retention, and ensures positive reviews and referrals!
By integrating item fulfillments, customers know when products are shipped and estimated delivery dates through your Shopify storefront. Automating this reduces your administrative burden. It also relieves pressure off your support staff, who have to deal with fewer shipping status inquiries.
Dell-Boomi for 3PL Businesses
3PL (third-party logistics) companies are involved in aspects of a product's supply chain, like sourcing, warehousing, or shipping. If you're a business experiencing demand growth, like consumer goods distributors, Dell-Boomi has another product that may be a fit  – Boomi-EDI.
Order-to-Cash Automation and Integrations
Scenario: You're a cosmetics manufacturer with a revolutionary product that you decide to sell through traditional brick-and-mortar channels, by retailing it at Walmart. To facilitate this, Walmart requires a platform that allows them to place purchase orders with you electronically. You start investigating the best way to set this up.
It's becoming common for companies to have automated processes going down the supply chain, making it easier for B2B customers to place orders with little manual work and shorter lag times.
Boomi-EDI is an easy-to-use platform that's customizable and simple to maintain. Through configuration and a minimal amount of coding, you can connect, say, Walmart's order management system with NetSuite, such that when Walmart places a purchase order, a sales order gets created in NetSuite. Your fulfillment team can then pick, pack, and ship the product. Ship dates and tracking information can then be sent back to Walmart.
Eliminating manual work as a result of this drastically improves your efficiency and customer satisfaction.
Use Trajectory's prowess with Dell-Boomi to scale your business
Now, you're probably wondering "But why use Trajectory?"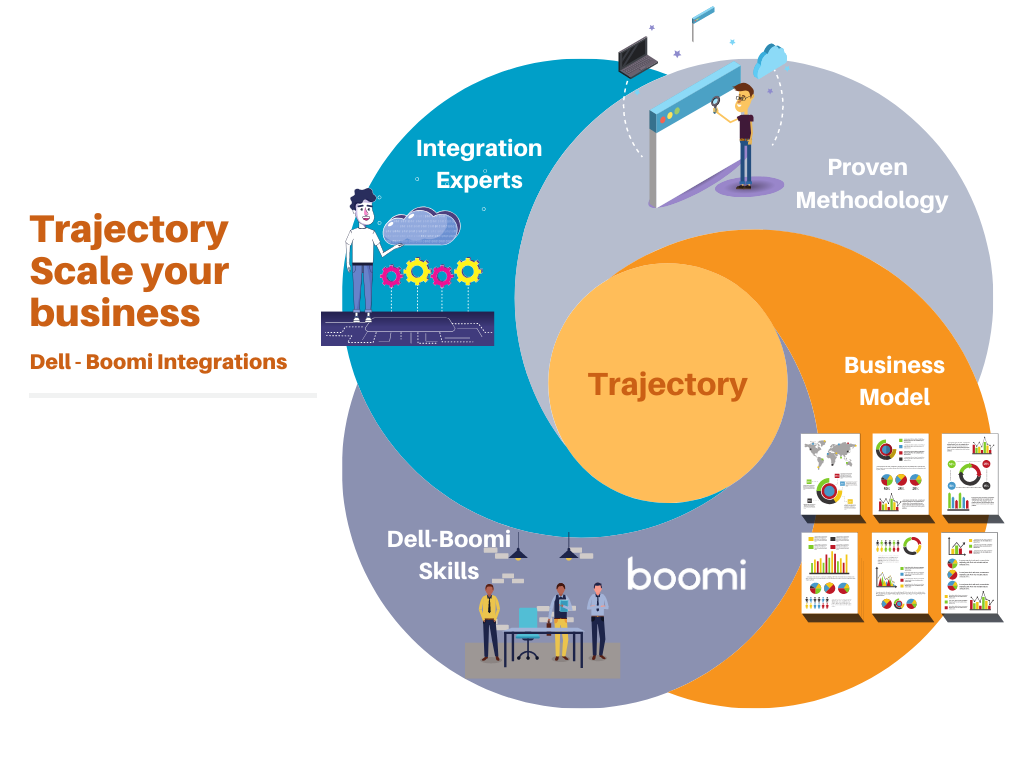 Over a Decade of Integration Work –

We've implemented over 300 projects, and one of the consistent themes we've had is the use of integrations. We rarely have projects that involve building processes for a single system, but rather we build solutions involving multi-channel sync.
Proven Methodology –

We've realized that the key to a successful implementation is making sure we understand our clients' business processes inside out. Taking the time to immerse ourselves in our clients' day-to-day activities has ensured that the integrations we build are process-driven, efficient, and scalable.
Diverse Customer Portfolio –

The variety of business models we've worked with have added wisdom and creativity to the way we design and implement business processes. From educational platforms to maritime vessel tracking companies, trademark/brand screening services to telecom manufacturing companies – we've seen it all!
Dell-Boomi Expertise –

For all the integrations we've built, Dell-Boomi has been our go-to platform. We pride ourselves on our deep expertise and knowledge of this system. 
Creating a seamless customer experience is quickly becoming a strategic imperative. To learn about if your organization could benefit from a data integration upgrade, contact us using the form below.