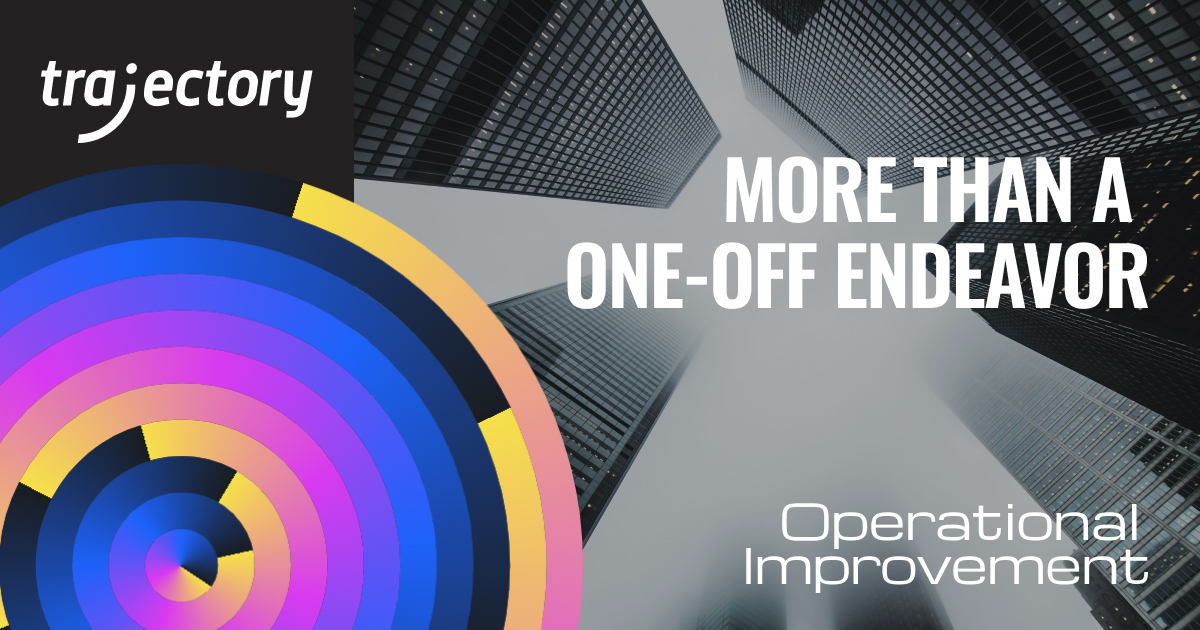 Operational Improvement is a common term in the business lexicon, and most generally it's defined as, improvement in the way a process or business functions in order to improve efficiency and profitability of business operations.
What's important to appreciate, is that the completion of the initial program is only the beginning of an on-going operational improvement cycle. According to Valuize, the operational improvement cycle requires that in order to continuously improve, an organization must continually design new processes, implement them and effectively manage the change, monitor the processes, collect and analyze related key performance indicator (KPI) data, identify improvement opportunities, and then start the cycle again.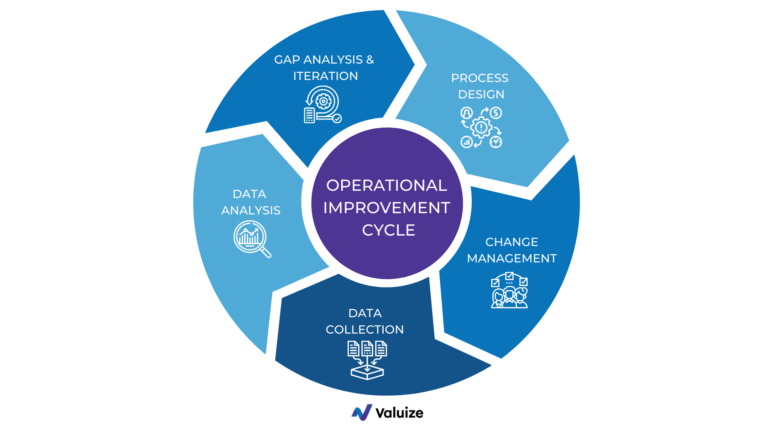 Let's dig into each stage of the cycle and explore how to do things right.
Process Design > This phase is critical as the collection of input from all relevant process stakeholders (from senior management to front-line workers) is required. Senior managers must align on overall process goals and outcomes and agree on success metrics for the "improved" process. Input from all other stakeholders should be collected to establish what the process should look like in the context of their day-to-day responsibilities. Overarching considerations in this phase should cover, not only what the process will look like, but how it will be executed, by whom, in what timeframe, using which tools. When using a technology solution to manage a process, it's best to implement as close to out-of-the box functionality as possible, then add customizations if still not meeting requirements. Custom development should be explored only when absolutely necessary as customizations can require on-going maintenance.
Change Management > Carefully managing this element of process redesign is often considered the foundational success factor, since without stakeholder buy-in and willingness to embrace the change, the initiative has a high chance of failure. What does effective change management look like? It involves understanding what the change means for all stakeholders, addressing any reservations they may have, ensuring clear communication of the desired future state early in the process, and explaining the benefits to be enjoyed from their new reality.
Data Collection > Once the change is implemented, related metrics (KPIs) must be tracked to assess the degree of improvement realized. And remember to keep your baseline KPI's as a comparison to the new reports.
Data Analysis > The ability to drill into data to establish trends and relationships is powerful for leveraging that knowledge into strategic insights. If your ERP system's native reporting and drill-down capabilities are not powerful enough to meet your business analysis needs, or you need to consolidate data from different systems to produce the required analysis, there are Business Intelligence (BI) tools that can be incorporated into the technology ecosystem to do that. Various BI options can be explored at sites such as Business Intelligence Market.
Gap Analysis & Iteration > Once the process is in place, set-up a post Go-Live Support infrastructure with a formalized internal Help Desk/Feedback process and to designate key process experts from each department. The business then has a mechanism in place to identify gaps and capitalize on opportunities on an on-going basis.
Conclusion
Fostering an iterative operational improvement mindset and action plan will promote and support the on-going optimization of business processes. If successful, the endeavour can then be used as the precedent for all future operational improvement efforts – bolstering confidence in the Executive team and maximizing buy-in from all stakeholders indefinitely.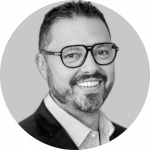 About the Author – Alex Olano – CEO, Managing Partner
In 2005, with 15 years of technology implementation industry experience, Alex and his partners set-up a boutique consultancy, with the vision of providing not just technology implementation advice but overall operational improvement advice. Over 15 years and hundreds of engagements later, Trajectory has evolved into a consultancy that does exactly that. Following a business-first, solution agnostic approach, Trajectory team members, consisting of experienced business consultants, professional project managers, and software developers, support clients and PE firms with everything from technology ecosystem design/solution selection (including OpenAir, Oracle NetSuite, Boomi, Salesforce, Shopify, etc.), technology ecosystem due diligence, blueprinting, implementation to on-going optimization support.