What is the NetSuite Contract Renewal Module?
Just as with any other aspect of a business, it is important to have good practices in how you manage renewable contracts. This is the dream but in reality, it can be a total nightmare.  Especially when it comes to calculating the renewal terms and what services are renewable and what are non-renewable. What can be worse than this? Oh wait, how about forgetting your customer's contract expired a month ago!
Reading Time: 5 min
Drink pairing: Mochaccino
Who should read: NetSuite Administrator, CFO
Need immediate help? Contact us via the chat box in the bottom right corner or the form below this insight.
Thankfully, NetSuite developed the contract renewals module to solve the problems you are facing today:
Not being able to effectively manage your recurring revenue from ongoing licenses, support and maintenance contracts.

Using inefficient manual processes leads to slower response times and costly errors to expiring contract relationships.

As a result of the limited visibility, you experience higher customer turnover and lower revenue. Strategic initiatives are focused on repairing existing relations instead of focusing on growth.
NetSuite's Contract Renewal module seamlessly automates the contract renewal process, allowing users to track renewable assets and manage recurring revenue all in real-time. 
What Can NetSuite Contract Module Do for Me?
Let's take a look at some of the key benefits that will help you with your business:
Automate Renewals: NetSuite will automatically create a new sales transaction when the current contract is about to expire. This reduces customer churn as the sales transaction acts as a reminder to follow up with your customer and secure a renewal. Having the sales transaction created automatically saves your time and reduces the chance for errors as your sales transaction will be pre-populated with customer and contact details including renewable items.
Streamlined Contract Management: You can consolidate multiple sales orders with renewable items that co-terminate and renew year over year using a single contract rather than managing multiple contracts for the same customer. This eliminates clutter and makes it easy to identify the current contract.
Centralized Contract Management: Contracts act as a hub. Most of the important related records are linked to contracts: sales orders, invoices, return authorizations, credit memos, etc. Rather than digging through a customer's entire transaction history, you can simply go to the most recent contract and find what you need.
Improved Renewal Visibility: Customers have issues tracking contracts that are about to expire and inadvertently lose business by not renewing customers.  NetSuite's real-time dashboard highlights contracts that have expired, contracts that will expire within the short and long term. This provides you with the necessary information you need to allocate resources to contracts that have or will expire in order to ensure continuous recurring revenue. The dashboard can be customized to show the relevant information you need to run your business.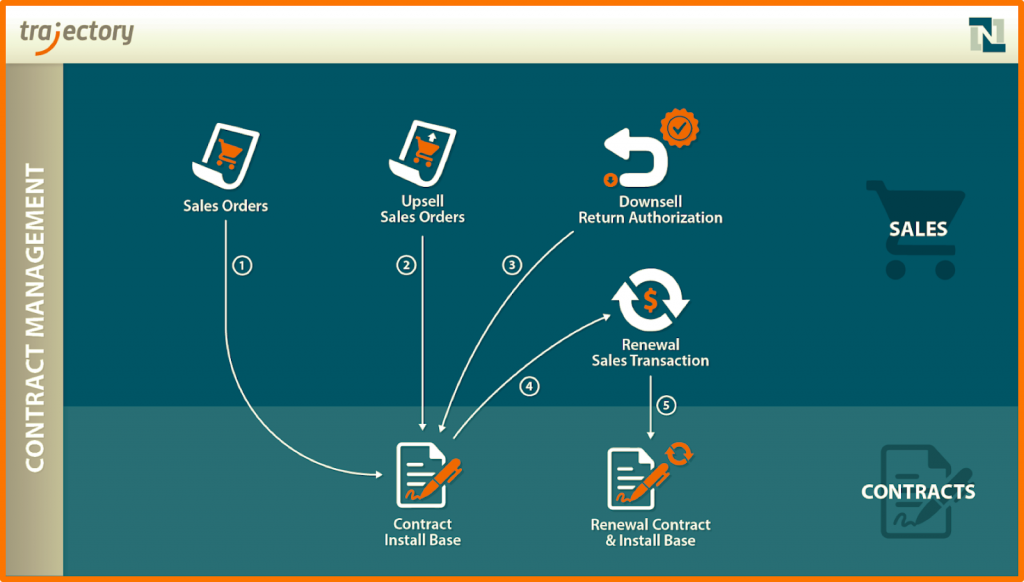 How Does NetSuite Contract Renewal Module Work?
Let's go over the contract renewal module and talk about each step of the process in more detail.
The first step to kick off the contract renewal process is your sales order. Your sales order will have contract-specific fields that help you track details such as a start date, end date, and term lengths. The sales order itself will consist of renewable items such as licenses, support or maintenance. It easily handles items that do not renew like tangible goods, time billed and one-time services. Typically, once the sales order is approved, a contract is created.

During the term of the contract, if there are opportunities to up-sell your customer with additional services, swap one service with another, or completely remove a service from the existing contract, then you will be happy to know that contract renewals can handle these requests. You simply follow your standard process to create a sales order or return authorization with some minor updates in how you create them.

Before the contract expires, NetSuite will create a renewal transaction: opportunities, estimates or sales orders with your renewable items. Contract renewals are flexible as it allows you to choose how far in advance of renewal the renewal transaction is created. Contract renewals also allow you to choose which transaction to create so it fits your business needs.

Once the sales order has been approved, a renewal contract will be created. From this point onwards, renewals will be created in perpetuity until your customer decides to cancel services as they a no longer required.
Like this read? Popular Insights to read next:
With NetSuite's Contract Renewal Module, you can deliver a consistently positive customer experience, improve retention and scale. To see more than just the tip of the iceberg and to learn more about how the NetSuite Contract Renewal Module can help your organization to grow and thrive, contact a Trajectory team member today or fill out the form below.