Recurring billing is the practice of automating the billing and charging process. This is based on the conditions specified in each customer's contract. It ensures that customers will be billed on time, without the hassle of having to manually create & check invoices.
The recurring billing process also assists with collections, automatically charging credit card payments. This simplifies work by allowing the financial team to focus on other important tasks, such as inventory or tax management.
Time to Read:

6 min

Who Should Read:

AR Team, CFO, Controller, NetSuite Administrator

Drink Pairing:

Long Island iced tea

In case you need help…right now: Get in touch on Contact Us page.
Quick Scenario:
Imagine you manage a company with a subscription-based business model.
You offer a diverse product portfolio with multiple payment plans.

Your contracts can have discounts based on different billing cycles (monthly, quarterly, yearly).

New customers are arriving each month, and, existing customers are happy.
The issue at hand: The above points create a large volume of transactions that your finance team needs to handle efficiently. This is done to avoid critical problems such as late billing, which affects your cash flow and your operations in general.
How do I manage Recurring Billing in NetSuite?
Netsuite provides multiple tools you can leverage to streamline operations. It also has the added benefit of having all data in one platform, synced in real-time with the general ledger. Companies that use NS have the ability to choose between the following options depending on the scale and complexity:
Method 1: Recurring Billing
The NetSuite Recurring Billing module is a straightforward approach that can accommodate different billing requirements. This module kicks in when a Sales Order is created in the system and the billing terms are defined.
The Sales Order will have a grand total, which is the amount to be billed over the duration of the contract. It will contain an object called "Billing Schedule" which lists all the invoices to be created at specific dates & amounts. Think of the billing schedule as a master record of upcoming bills. Once this is set up, the system will handle the billing by itself until the contract ends.
Not all businesses require a complex recurring billing/contract renewal solution. Some companies can thrive by simply keeping track of:
Billing dates

Renewal dates

Payment information

Dates

Customer balances
Pro Tip: Companies can configure the system in a way that automatically sends a notification to the customer each time a new invoice is created.
Here's a quick case:
Below is an example of how Netsuite would handle the recurring billing process for you:
Contract conditions and billing terms:
Duration:

1 Year

Total Amount:

$1400

Initial Payment:

$200

Billing Cycle:

Quarterly

Start Date:

06/01/2019
Taking these conditions into account, Netsuite will generate the following billing schedule. On each date, the system will automatically generate the invoice and send it to the customer.
| | | |
| --- | --- | --- |
| Invoice | Date | Amount |
| Fist payment | 06/01/2019 | $200 |
| Second payment | 09/01/2019 | $300 |
| Third payment | 12/01/2019 | $300 |
| Fourth payment | 03/01/2020 | $300 |
| Final payment | 06/01/2020 | $300 |
| | Total | $1400 |

Limitations of the recurring billing feature:
It doesn't allow for automated renewals of a contract.

Example: If the client decided to renew a contract once the billing schedule has finished.

In cases where the contract changes

halfway, modifications like adding a new product need to be processed manually.
Method 2: Contract Renewals (for existing customers)
Software Vertical Contract Renewals is a module well suited for software as service companies. It has predefined fields and behaviour-oriented towards software license management. It also has very robust functions for mid-contract upsells, down sells and change orders, to name a few.
The Software Vertical Contract Renewals module is a highly configurable, highly automated and well-documented solution that, once properly configured, can handle a high transaction volume.
For companies with a billing structure that does not fit well into the Contract Renewals module, there is another option by Netsuite called SuiteBilling. We will discuss this new module in detail next.
Pro Tip: See our popular post about the NetSuite Contract Renewals module and how it benefits your team.
Method 3: Suite Billing
SuiteBilling is one of the latest modules added to the platform. It's been designed as the ultimate solution to have a punctual recurring billing process in compliance with revenue recognition requirements.
Suitebilling provides:
Consolidating Invoicing

Automated Contract Renewals

Discount Management

Flexible Pricing

Automated Rating Processes (supported by NetSuite Advanced Revenue Management and Financial modules).
Here's a list with details about the most important features:
1. Subscription management:
Out of the box, Suitebilling provides a straightforward path to define subscription terms, pricing structure, discount policies, and renewal conditions. Here are some of the neat features:
Change orders within an active contract can be handled easily. It has "out of the box" support for upsells, downsells and add-ons.

There's support for service suspension, reactivation, extension, and termination.

We can take advantage of its flexibility to handle prorations, adjustments, advanced billing, and recursive billing.

It is possible to easily create multiple renewal options.

Traceability is guaranteed, it is always possible to track the origin of each transaction.
2. Usage tracking:
Instead of simple pricing structures, some companies need to track service usage and consumption. For example, a phone company that bills by the minute, or an internet company billing frequency by MB.
These companies often have pricing tiers with consumption caps, you may continue to use the service, with added pricing per unit. To achieve this, usage tracking is essential and is supported natively by this module.
Keeping historical consumption information is an added benefit of Suitebilling. This allows companies to have a better understanding of their customer's behaviour and consumption habits.
3. Billing metrics:
It is a common mistake to underestimate the importance of metrics, graphs, charts and KPI's. However, analytics are a powerful tool for every business, even more so for SaaS and subscription-based companies.  
Suitebilling also offers a real-time dashboard with the most important figures:
Annual contract value

Total contract value

MRR (Monthly recurring revenue)

ARR (Annual recurring revenue)

Churn rate

Active subscriptions value

CAC (Customer acquisition costs)

CAC payback period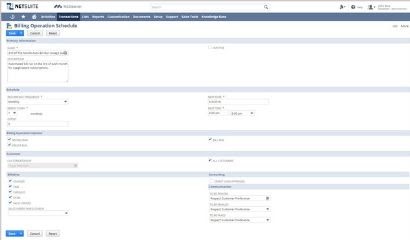 NetSuite provides a robust catalogue of solutions designed to streamline and optimize your company's billing operations. Regardless of how complex the conditions are, it offers different ways to approach the problem. Since it's a connected platform, all the data is connected to the rest of your information (including Rev Rec).
To Summarize:
Netsuite's Recurring Billing feature

is ideal for companies with simple business operations.

The contract renewals module is not allowed for new customers

. Only old pals would be able to access it.

NetSuite Suite Billing is a remarkable tool

that will automate your billing process all the way.
Another important area for non-accountants to be aware of is how Revenue Recognition relates to the Billing process. NetSuite Business Intelligence on Advanced Billing is a great reference about this topic to keep in mind.