Multi-Book is NetSuite's premium tool for customers looking to control multiple accounting books in a single ERP software instance. Best of all, this feature is FREE for all NetSuite OneWorld customers.
What you will learn:
NetSuite MultiBook Module Overview

Key Features for financial records management

Impact to ERP Instance

Qualification Process
Module Overview
The module is designed to run, maintain, and report on multiple sets of accounting books in parallel within NetSuite. Multi-Book is an add-on to the Accounting software environment in NetSuite. This module allows customers to maintain up to 5 separate accounting books within the same ERP system. Specific accounting rules can be configured in each book which will allow a single transaction to be recorded differently across all accounting books. With this module, the challenges of managing multiple sets of books will be less difficult…
Common use cases:
Functional vs Local Currencies:

If a subsidiary is configured with a functional currency that is different than the local currency, and is required to generate financial reports in the local currency, Multi-Book accounting can be configured to allow subsidiaries to report in a different currency.

Different Accounting Principles:

With different accounting standards in each country, this module can be configured to record different transactions in each accounting book based on the local Accounting Principles for all or selected subsidiaries.

New Revenue Recognition Principles:

For customers looking to transition to new Revenue Recognition Principles, Multi-Book allows users to track transactions under both different Revenue Recognition practices and generate financial reports for comparative reporting.
Key Features Overview
With Multi-book module there are five5 features that will become available and configured based on the desired requirements:
Chart of Accounts Mapping:

Once this feature has been enabled, the chart of accounts will be updated with an additional filter called "Restrict to Accounting Book." This field allows users to specify accounts to only be available for specific accounting books as required. As a result,

separate sets of accounts can be created that are specific to an accounting book or the same accounts can be shared between multiple sets of books.
This feature also allows users to specify the account mapping rules for each book when a transaction is processed and recorded.
Foreign Currency Management:

Once enabled, this feature allows additional base currencies to be added to each subsidiary. This allows users to generate financial statements and dual dated audit reports for each accounting book under a different base currency. This will be a valuable tool as the business continues to grow internationally to support statutory reporting in each country.

Revenue and Expense Management:

When this feature is enabled, all revenue and expense transactions become book-specific entries. This will allow users to recognize/amortize revenue and expenses different across multiple books.

Extended Accounting Period Close Process:

Managing multiple sets of accounting books can be time-consuming, affecting month-end close procedures. With this feature,

users will be able to close each book independently and prioritize which accounting book needs to be closed.
Impact to ERP Instance
Once Multi-Book has been implemented, here are some of the impacts and changes customers will see in their ERP instance.
Transactions will now show the general ledger impact across all accounting books and translate the transaction into other functional currencies.

To assist with managing multiple accounting books, three additional features will be enabled which will allow customers to create book-specific journal entries to adjust each accounting book independently as required. The standard "Created Journal Entries" function will post the entry in all accounting books.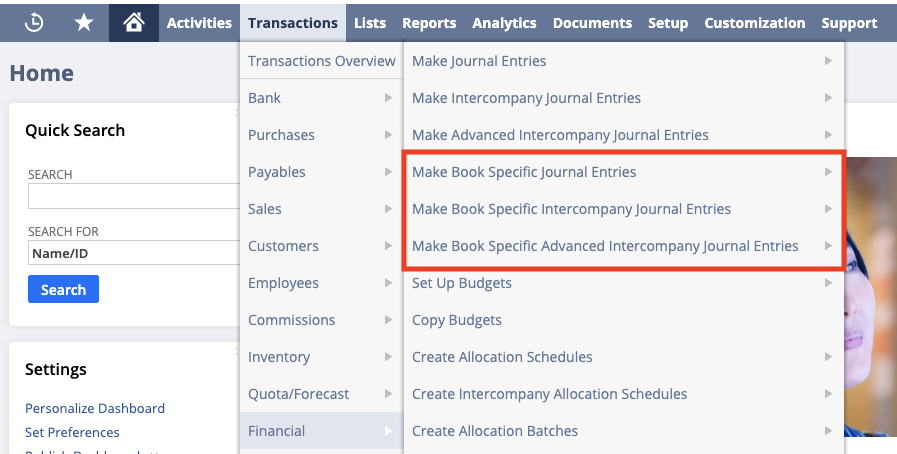 If the module has been configured to record different revenues

across each accounting book, then NetSuite will create an additional Revenue Arrangement per transaction to manage the revenue in each book.

At the item level

, separate revenue rules and triggers for revenue plan creation can be configured for each accounting book.

Reports will have an additional filter available,

to allow customers to view reports that are specifically targeted to each accounting book. 

Qualification Process
To be provisioned Multi-Book, there are a series of steps that must be completed:
Reach out to your NetSuite Account Manager

and request the feature

Complete the questionnaire NetSuite will provide.

This questionnaire helps identify if the cases will be resolved with the module.

Once the questionnaire has been completed and approved by NetSuite,

schedule a discovery call with NetSuite Professional Services

or your Multi-book enabled Implementation partner and discuss the requirements.
Pro tip: If you are already a NetSuite customer and would like to utilize Multi-Book with historical transactions, there is a feature called Historical Transaction Processing (HTP) that will bring historical transactions to the new created accounting books. The HTP process is managed and completed by NetSuite, a separate call will be required to discuss the depth of the historical transactions to be recorded.